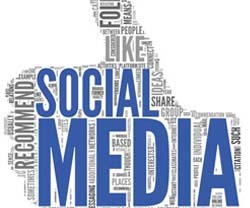 Social media has changed the way we communicate and share information.
It doesn't matter if your business is big or small if done right it will work either way.
As I'm sure you already know, social media is a constant in many people's lives and as such it brings businesses many opportunities to market their brand are products.
Why you should take advantage of social media
Social media is cheap
One of the best things of social networks is that opening an account is completely free, which means that it's not necessarily going to exhaust your marketing budget.
You could argue that social media needs maintenance and attention, and therefore consumes resources. And yes, up to a point you'd be right.
However, there are marketing tools such as Hubs which will let squeeze all the juice from your social posts, or Hootsuite that will allow you to schedule hundreds of posts, that can make managing social networks much less time consuming.
This means that with very little effort and investment, you could be reaching a wide range of audiences no matter where they are, as well as increasing your chances of obtaining new customers.
The only thing you need to remember is to produce high quality content that matches your brand image and goals.
Through social media you can target your audience
Connecting with your audience through social media is really easy.
Most social networks offer you the option to filter down people by Geographic location, age, gender and even by their interests.
Not only that, you can also appear as a suggested page or company to those with related interests.
This will save you time and allow you to create more targeted strategies. You can for example publish posts with offers that will only be seen by people that speak certain language, or that live or are in a given city, are in a relationship (or not) and have a certain age.
Apart from that, you can check your followers reactions to your posts and content thanks to the social media analytics. With this information you'll be able to know more about what resonates with your targeted audience and made the adjustments you need to your marketing strategies.
Gives you the opportunity to give your users excellent customer service
Many people nowadays feel more comfortable using channels like social media or email to get in contact with brands.
Social Media especially is seen as a direct channel and encourages engagement.
You can receive feedback from them in real time, reward them with special deals and promotions, you could even hold competitions for your followers if they share your posts with their friends.
The best part about social media for your business is that you are available for your customers at all times. If they have a question you are able to reply within seconds, you just have to be active and available for them.
You can build a good brand name online
Social media will help strengthen your company. You can develop as a business gaining new connections that will help you succeed as well as develop your businesses personality.
You can provide information about you, your team or where you work, so your customers can learn more about your company and make it more personal. It's easier to trust a brand when you know the people working behind it.
Social media helps you work towards a greater success, every business should get active and get involved on social media sites.
If you find that social media can be very time consuming, you should try 3D Issue Hub. As a way to push your social media posts to the next level.
A Hub allows your audience to access all your content in one place. You can collect your content from blogs, news, Facebook, Twitter and all your other social media accounts. You can also display video and multimedia clips within your Hub. Your hub updates itself automatically as content is added to your online sources. Here is a sample of one of our Hubs.
If you have any questions you can email us here at info@3dissue.com