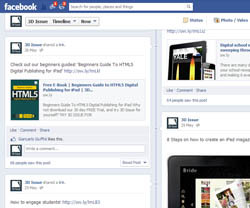 I read an article posted on Guardian Media recently that claimed  20% of students viewed university social media as untrustworthy or irrelevant meaning  students don't look for information there, but used better, these channels could count.  Universities should be looking at social media content as part of a wider immersive and rounded experience for prospective students, and should also think about how much of the information they are pushing out is relevant to new or potential students.
Facebook – Whilst a few Facebook posts are unlikely to be the sole reason for choosing a particular university,  a positive, responsive and relevant social media presence does have the potential to convert prospective students into enrolled students. Alumni affairs offices have made efforts to reconnect graduates to one another, find jobs, and fundraise through popular social networking sites like Facebook. Some colleges and universities have utilized podcasts, video blogs, and webcasts to share the work of students, faculty, visiting scholars, and alumni with the broader world
Twitter This has provided an opportunity for institutions to create live, up-to-the-minute notices of commencement programs, homecoming events, class reunions, and live chat sessions as well as campus emergency alerts. Tweeting has also found its place prominently in online courses as a discussion medium for faculty and students. Many institutions have encouraged student athletes, coaches and athletic offices to utilize Twitter as a platform to engage with fans. It is important to talk about things the student community need to know, information that relates to them. Don't try to engage with too many stakeholder groups all at once because you will not. Tailor your output to meet your audience's needs.
Pinterest –  Now the third-largest social network behind only Facebook and Twitter. In the higher education marketing industry, Pinterest presents an interesting opportunity, which can help reach a completely different segment of your prospect population. First figure out the core of your brand. Then share that brand ideology, and that's where Pinterest can be very powerful. Creating 'on-campus' boards. Tell "people" stories about faculty members, a board for I TEACH or ALUMNI Board. Attract prospects with high quality images. Use all types of visual content and represent thoughts or views that are inherent to your university brand.

Blogs – College and university faculty have also used blogs as a pedagogical strategy. Recent studies have investigated the use of blogs in academic disciplines. WordPress is a very popular tool for this it produces SEO friendly and shareable content which is extremely important.
It's important to remember that social media is usually a marketing channel that creates POTENTIAL for future leads.  With that said, there are still a few important KPIs we can monitor to gage social media success. How much referral traffic did your website/landing page generate from social media channels? How active are your social platforms, and is your follower/fan count growing? Social Engagement – Are your posts or Tweets being shared, +1′d, liked, and retweeted? Social Content – How is the content produced through social networks performing? How many links has it generated? how many times was it shared?
By Linda Daly