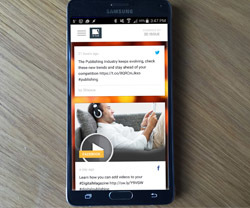 The purpose of a Social media aggregator or a hub is to gather information from various sources and present them on one place where the reader can easily access them all.
These content sources can be in the form of social media profiles, RSS feeds, blogs or even videos, essentially anything that allows you to publish content digitally.
To find out how to start automating your publishing efforts on social media and see all the features you have available visit our hubs site where you can now start your 14 day free trial and see how your content hub would look like with just a few clicks.
If you're already familiar with the whole process but you're still unsure about why you should implement a social media aggregator as part of your digital marketing strategy, don't worry, here are some good reasons:
Increase productivity while saving time and money
Although there's an economic investment involved a good content aggregation tool is worth every single penny. Here's why:
By using a social media aggregator you improve your budget and ROI by saving on:
• Content research
• Data analysis
• Content creation
With the implementation of a social media aggregator as a part of your marketing strategy, you create an automated communication channel that's easy to maintain, provides a point of reference for all your content marketing efforts and what's more important, keeps you in contact with your audience.
Engage effectively with your community
When your social media content is published automatically, you have more time to create a community outreach strategy and prepare new campaigns. In fact, now that you already have the attention of your readers, you can focus on ways to make them your most loyal followers.
I'll give you a couple of ideas that will help you create a successful community:
• Talk to your audience
• Share your followers' content and make them feel heard
• Create specific social media based contests
• Start campaigns using a branded #hashtag that you can then follow and include in your hub
Viewers become loyal customers
It doesn't matter if a particular customer hasn't won your contest or if you haven't shared any of his photos on Instagram, you've still worked hard to leave an overall impression that you communicate directly with your followers.
When people see you as someone who cares and who listens to them it will much more difficult for them to look away, you would have stablished a relationship with them that others don't have.
As you already know, social media affects all aspects of digital marketing, so don't be surprised if your customer lifecycle improves as well.
Research the industry
You can use your social media aggregator to peek at your competitors and their strategy, and keep an eye on the hot content in your niche.
Create a hub for internal use and add relevant sources from authority figures in your industry. You will be able to see what they are writing about before anybody else does and have a good idea of what you should be publishing in the upcoming period.
Implement the same tactic for your direct competitors and find out what their strong points are, where they are focusing their marketing efforts and how they are trying to achieve their goals. You may be surprised how many questions someone's content marketing strategy can answer.
If you need more information, want to know how to start creating a hub or how it could benefit your business, send me an email at info@3dissue.com.