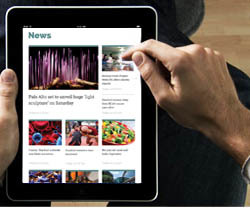 The internet has transformed the ways in which the majority of us send, receive and digest content and information. The internet, coupled with the devices, devices whose technological capabilities increase on what seems like a daily basis, has endowed us with a resource that is undeniably one of the greatest resources of information we have ever known. This arena is so vast that it can be a daunting task trying to navigate this, the most colossal of all information sources.
And herein lies the problem.
Problem is maybe too strong a word; slight obstacle would be a better way to phrase it. On average, companies use 13 different online platforms to promote and engage with their readers but don't have a single location where their audience can access that content. If you put yourself in the shoes of the consumer, that is a lot of portals to be navigated and digested, it is both unreasonable and unrealistic to expect the consumer to spend their precious time locating all these different portals and then spend further time reading and viewing the content these portals contain.

It is for this reason we have witnessed a rise in digital marketing hubs being utilized by companies and businesses worldwide. This use of hubs by companies, hubs that are integrated into their own websites and can be located by visiting one location as opposed to many has proven a successful and welcome addition to the content digestion arena for consumers and companies alike.
Marketing methods have evolved alongside the digital revolution. Everything is enhanced, everything is mobile. Brands now have the ability to reach the consumer on a scale which has never been witnessed before. Digital communication has enabled brands reach the consumer directly; you can avail of various methods of digital communication such as;
• Location based marketing campaigns – The fact that one in 5 people in the world now own a smartphone; it looks very likely that this area will receive some much deserved attention.
• Brands as publishers – We are now at a stage where brand publishing has overtaken traditional methods of advertising. Brands are now required to be ever more creative in order to acquire our attention; brand publishing is the intersection of storytelling, advertising and technology.
• Digital newsletters – Amidst all the options available to us, newsletters remain one of the most cost effective and fruitful methods of reaching out to your target market. They have boundless potential when utilized in the correct manner, there is no better way of conveying useful information that the consumer will find relevant and helpful and thus encourage further engagement.
• Online catalogs that can be used to shop directly – convert your content into an online publication that encourages the consumer to browse, locate and purchase while simultaneously supplying an inspiring shopping experience.
• Digital brochures with rich media – Rich media could be a video to watch or an audio track to listen to or perhaps a combination of both, rich media is designed to stimulate the senses; it could be an advert that responds when you roll your cursor over it, rich media can encompass many elements of communication.
• Cross channel promotion – This is critical in today's connected world, tablets and smartphones in particular have literally exploded into our lives, they are everywhere, take a look around you, I guarantee you will see someone staring intently at their phone, happily tapping and scrolling away.
• Video and audio – Video enriches any publication within which it resides; in terms of content sharing, video is truly one of the internet's strengths.
• Social media integration – Social media has positioned itself as a strong platform from which to share and distribute your content and demands inclusion within your marketing strategy.