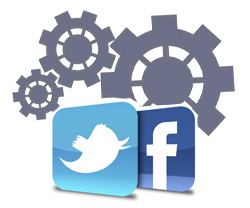 Social media has blossomed from a pastime amongst the consumer to a necessary facet of any business that is online; such has been the upsurge in the usage of social media amongst consumers the world over. The figures involved are truly astronomical, for example;
Estimates state that LinkedIn has 259 million users, Facebook has 1.15 billion monthly users and Twitter has 550 million users of which 215 million are active users. Granted, some of these figures may be a slightly embellished version of actual figures, the fact remains, these figures are so vast, so immense, that even if your company was to reach a miniscule percentage of these potential eyeballs then your company is giving itself a much better chance of prosperity and survival.
LinkedIn, Facebook, Twitter, Google +, Pinterest, Instagram, Tumblr, Desktop Pc's, smartphones, tablets smartwear, blogs, whitepapers, infographics, video, audio, the list goes on and on and it can be quite daunting just to keep a track of what is the latest hot topic or trend never mind ensuring your company is represented and available on each.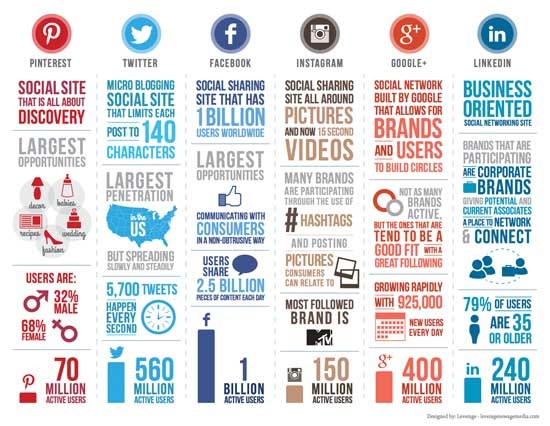 Infographic courtesy of Mediabistro
Social media has become a necessary component for success in today's online-driven business world. You need to promote your business in various ways, and in a fast paced flow of information your content and conversation needs to be effective.
In order for you to utilize social media to your full advantage you have to understand the relationship between social media and business. And in order to create a successful social media marketing strategy, businesses need to focus as well as create a marketing campaign that will not only promote their brand, but also reach out to their customers and potential leads in a way that best meets their needs.
Jeff Bullas recently covered this very subject when he released his fantastic 22 Social Media Facts and Statistics You Should Know in 2014, in his often fascinating findings he listed;
Social web demographics – the who and where
• 72% of all internet users are now active on social media
• 18-29 year olds have an 89% usage
• The 30-49 bracket sits at 72%
• 60 percent of 50 to 60 year olds are active on social media
• In the 65 plus bracket, 43% are using social media
• Time spent on Facebook per hour spent online by country. Here are the top three. USA citizens get the top gong at 16% followed by the Aussies at 14 minutes and the Brits at 13 minutes.
• 71% of users access social media from a mobile device.
Facebook
• There are now over 1.15 billion Facebook users
• One million web pages are accessed using the "Login with Facebook" feature
• 23 percent of Facebook users login at least 5 times per day
• 47% of Americans say Facebook is their #1 influencer of purchases
• 70% of marketers used Facebook to gain new customers
Google +
• There are now over 1 billion with Google+ enabled accounts
• It has reached 359 million monthly active users
• Google+ is growing at 33% per annum.
• The 45 to 54 year old bracket increased its usage on Google+ by 56% since 2012
Twitter
• There are now over 550 million registered users
• 34% of marketers use Twitter to successfully generate leads
• Twitter was the fastest growing network with a 44% growth from 2012-2013
• 215 million monthly active users
The others
• Pinterest with 20 million active monthly users
• Instagram with 150 million active monthly users.
Click on the image below to view the infographic in full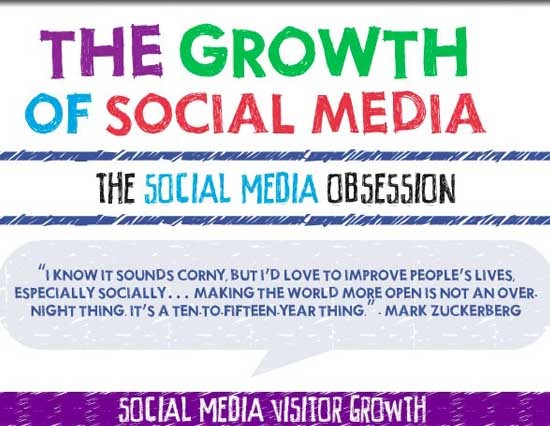 This information is complemented with this very informative infographic from Search Engine Journal
On average, companies use 13 different online platforms to promote and engage with their readers but don't have a single location where their audience can access that content. 3D Issue collects and centralizes your online marketing content and converts it into stunning mobile web applications that can be viewed on any desktop, tablet, eReader or SmartPhone. 3D issue collects content from premium social platforms such as Twitter, Facebook, LinkedIn, Google+, Instagram and YouTube. Your readers can also push content through these platforms through comments and sharing options.
Try it out today by filling in the form above and you will be one step away from creating your very own hub to promote your business.