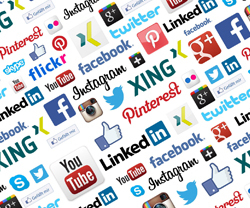 The use of a social media aggregation software will allow you to engage with your audience while increasing your level of productivity and become more familiar with your direct competition.
Not only that, but it will also help you build brand awareness through social media, especially if you think about the role of digital media in the future of marketing.
The difference between content aggregation and content curation
• Content curation – Great for establishing your business as a thought leader in your niche using valuable, high quality and original content.
• Content aggregation – Provide more information about your niche from different sources and include your audience using social media.
Why you should use a social feed aggregation tool
Social feed aggregation is a form of content aggregation where you use the content you publish on your social accounts to amplify and extend the sense of community on the internet and to show your audience how you, as a brand, can listen to your customers.
1.Increase the amount of content you produce
Keep your content production costs low while significantly increasing the overall quantity and quality.
With an aggregation tool like hubs, you can include snippets of content created by other influences on your niche. While this is not your original content, it affects the way people see your site and your brand.
Publishing news from your industry will make you the point of reference when people are looking for the information related to it and will grow your brand awareness too.
2.Build a community
Building an active community on any social media channel can be the key differentiator between successful and wannabe online brands.
Having a group of people that serve as loyal advocates of your brand should be a significant part of your digital marketing strategy, especially since as you already know, people trust other people when it comes to recommending brands and services.
3.Show your audience you listen
The aggregation of your audience's content on social media makes them feel heard and important, try to include this in your strategy, it will help you set up a strong base to build a community with whom you have a good relationship.
What you get from social media aggregation
A social media aggregation software will give you a lot of content created by yourself, your audience and by industry influencers, it will give you a place that will serve as a platform to display all your content marketing efforts and a user base that will act both as the best critic and as the best referrer of your brand.
In order to get the maximum benefit of social media aggregation without spending too much time on it, look for a software that will let you automate the process.
You can check out our customizable Hubs and Apps and see if our platform can provide you with the necessary tools to automate your social aggregation efforts and start seeing results.