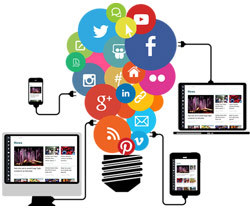 Social media has changed our habits in terms of news and information ingestion to such an extent that it is now quite often the first port of call for people who require the most accurate and up to date information possible. We no longer have to rely on being told what is news, we have the method, and the means, to find out for ourselves no matter what corner of the world it happens to transpire. LinkedIn, Facebook, Twitter, Google +, Pinterest, Instagram, Tumblr, Desktop Pc's, smartphones, tablets, smartwear, blogs, whitepapers, infographics, video, audio, the list goes on and on and it can be quite daunting just to keep a track of what is the latest hot topic or trend never mind ensuring your company is represented and available on each. It is due to the vast array of subject matter and platforms that social aggregators have become a necessity within company's approach to online social media.
Estimates state that LinkedIn has 259 million users, Facebook has 1.15 billion monthly users and Twitter has 550 million users of which 215 million are active users. Granted, some of these figures may be a slightly embellished version of the actual figures, regardless though the fact remains, these figures are so vast, so immense, that even if your company was to reach a miniscule percentage of these potential eyeballs then your company is giving itself a much better chance of prosperity and survival. Marketing your brand on social media has become an integral part of any businesses marketing plan such is the volume of consumers within these platforms.
Thankfully, as this fantastic, vast realm of information has opened up to us, so too have the methods that we can use to search its vast chasms and data banks. The option of online news aggregators and content curation tools has helped lighten the load. The use of these tools has made it much easier to sift through the information that we don't need and locate the data that does concern us. News portals have shifted and transformed, where once we would have relied on two or three main mediums to keep ourselves updated we have numerous options, social media has spread like wildfire among the natives, quite often a news story will break on social media before anywhere else, the effect is instantaneous.
Examples of the power of social media at work were demonstrated by several breaking stories appearing online before anywhere else, since Twitters inception there have been numerous examples, one that springs to mind is when Japanese journalist Kosuke Tsuneoka, who had been kidnapped in northern Afghanistan, was asked by one his captors for his help in configuring his phone, the journalist was then able to connect to Twitter to tell his family and friends that he was alive and well.
The examples are too numerous to list but the message is clear, the power of social media is unlike anything we have ever know and continues to grow and evolve with each passing day, this is an area of the online world that businesses and company's must harness in order to take full advantage of the numbers involved.
To harness such gargantuan numbers in terms of both users they contain and the content these platforms carry, a social aggregator is no longer just an option but more a basic fundamental for business in a world where online visibility is everything.