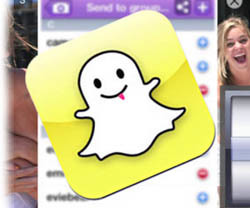 It's not every day a company which has yet to reach its third birthday and has no discernable source of income receives a takeover bid of $3 billion; it is even rarer that an offer of this magnitude is turned down. That is exactly what is rumored to have happened recently when Facebook offered Snapchat CEO Evan Spiegel this gargantuan sum according to The Wall Street Journal. Offers for the hottest social media start-ups are not exactly new but there is a twist in this particular tale.
Snapchat is a photo messaging application developed by ex-Stanford university students Evan Spiegel and Bobby Murphy, contrived originally as a project for a class which Spiegel was enrolled, Snapchat's main distinguishing feature is its ability to send pictures, videos, text and drawings known as 'snaps' that will then disappear after a time set by the sender. They will not only disappear from the recipient's device but crucially from the Snapchat server erasing any possible digital footprint.
Now, at this point I think it is only fair to mention that there have been snippets of information relating to the fact that the snaps actually can be retrieved but this comes down to technical know-how and knowing exactly where to look. For the purpose of this blog and the general population we will proceed with the subject in hand.
The crux of the matter, and perhaps a factor which Snapchat owes its huge popularity, is a subject that has been on peoples mind for some time. That subject is the legacy that an unwanted digital footprint can leave. The worrying development of the trail attributed to online identity, especially amongst younger, more carefree users is an especially unpleasant attribute of online use. This is a footprint that can follow someone for life, possibly having an adverse effect on their educational and professional aspirations. Snapchat's ability to enable communication whilst erasing any trail of this cyber footprint has in the words of Spiegel himself, "making communication fun again", and has proved hugely popular for its five million daily users.
In August of this year analytics firm Onavo claimed that Snapchat was being used by 20.8% of iPhones in the US, coming in at eighth on the most popular app on Apples smartphone, perhaps more crucially, Snapchat, since September of this year, have been matching Facebook for the number of photos shared per day at 350 million. This figure has been accomplished at breakneck speed, growing from 20 million in October 2012 to 60 million in February 2013, a quantum leap to 150 million in April, 200 million resulting in the aforementioned 350 million achieved in September. A quick glance over these figures and it is relatively easy to understand Facebook's interest.
The interest of Facebook and the rejection by Snapchat
Earlier this month Facebook admitted it has been experiencing a downturn in daily users, especially among the teenage demographic. This is a particularly worrying development for Facebook when you consider this is the age group that more often than not point us towards the next big thing. Facebook could be a victim of its own success here, that being its 1.2 billion monthly users. These numbers have swollen so much that it encompasses all generations, not just the young, herein could lie part of the problem. The rise of the smartphone and the apps that accompany them are also a mitigating factor in the recent changes in attitudes of the young towards social media, apps such as WhatsApp, WeChat and KakaoTalk accompany Snapchat on the list of hot apps that the under 25's, and particularly teenagers are finding attractive.

After all, what young person wants their parents or their grandparents seeing their status updates about that recent wild weekend or those pics that weren't meant for prying eyes? Another mitigating factor may be that these apps are social networks in themselves negating the need for Facebook, Twitter et al.
Facebook has recognized this shift in attitude and are doing their utmost to quell the threat at the source. The $3 billion bid, if true, is Facebook's second attempt at purchasing Snapchat, they reportedly failed with an earlier $1 billion bid for the fledgling start-up. This can be seen as a major gamble by Spiegel and co although reports suggest that Spiegel is holding out for a larger bid until early next year due to the company's continuing growth. Rumours abound that just such a bid could come in the form of a formal takeover by Chinese e-commerce giant Tencent Holdings who are rumored to be intent on leading an investment that would value two-year-old Snapchat at $4 billion.
It wasn't all that long ago that people quaffed at the suggestion of Twitter and Facebook making money, these are two companies whose combined market cap today is in the region of $142 billion and enjoy combined revenues of $8.2 billion. Of these astronomical figures, Facebook is attributed to $120 billion, with $7.6 billion in annual revenue. When faced with such extraordinary figures suddenly $3 billion doesn't loom so large and could actually be a snip to ensure self-preservation.
A game of high stakes
If it comes off for Spiegel and co it will have been an incredibly gutsy, some would say foolhardy gamble that could turn them into billionaires overnight, that is of course provided the takeover goes ahead, no money has changed hands yet and until it does the speculation will continue to abound from every angle. What is not in question is the app's undoubted popularity and its stratospheric rise; it could indeed be an indication of things to come as with similar ventures in the past the younger generation have proved canny in predicting what lies ahead.
Perhaps the biggest indicator of all was a preview MG Siegler wrote for Instagram in 2010 which read "I think that communicating via images is one of these mediums that you're going to see take off over the next few years because of a fundamental shift in the enabling technology.", this is a quote that could have been written for Snapchat this very day.
The flipside to Snapchat's decline of Facebook's offer could be that they end up one of the many apps filling the same market space as consumer demand grows ultimately diluting their value.
Whatever the outcome, the digital world awaits with baited breath.