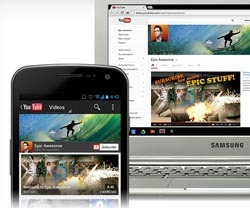 Sharing e-Magazines plays a vital part in the successful implementation of a company's marketing strategy. Currently, there is a wide range of possibilities to share your e-Magazine in the social networks.
In what ways can sharing digital editions benefit your business?
Sharing your e–magazine can be a great tool to increase distribution, improve your brand awareness and build up your relationship with your readers. Reaching the digital audience effectively depends on your approach to spread your intended message using the most suitable channels. A good knowledge of your target group is vital to select the sharing platform/s with the highest potential to achieve your goals.
Currently, one of the most promising platforms for sharing is YouTube as reported by Mashable.com. Thus, in the past few years YouTube has become increasingly popular in different segments including people of different ages, nationalities and lifestyles. This article reports that YouTube has recently launched its new design for channels called YouTube One Channel (available only as limited beta, to all users).
What is the YouTube One Channel?
Mashable.com explains that the YouTube One channel can provide users with the possibility to:
– Have a video trailer which starts playing for all visitors who are not yet subscribed to the channel
– Organize their channel videos and playlists better, having more control over what content subscribers see when they click on their channel
– Create videos that will look good on any screen size and any device

Nowadays, sharing your e-magazine can be as easy as sharing a song or video by choosing the right channels and using a software solution that provides you with sharing options. 3D Issue allows you to share your e-magazine in social networks as well as creating a magazine app for Facebook.
Image thanks to the nice folks here
By 3D Issue