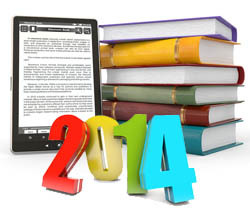 Self-publishing is a facet of publishing which has become ever more prevalent in recent times, there are several reasons for this, the main reason is that the technology available to us makes it possible for more and more budding authors (and established ones), to undertake this traditionally arduous process that in years gone by would have been left in the hands of an established publishing house to carry out and complete.
These established publishing houses used to hold all the cards when it came to deciding who was published, when and where, it was they who decided who would go main stream and who wouldn't, they had all the power.
Not anymore.
The tools and technology now available enable authors to publish books that previously, for a variety of reasons may not have made it into the publishing domain, now through varying self-publishing tools and techniques this has become a very real possibility for many. Print-on-demand technology and the eBook revolution has changed the rules beyond recognition, the rise in self-publishing has given a voice to many who otherwise may never have been heard of and we would have been deprived of their considerable talents.
Shades of Grey author E. L. James anyone?
According to research by Bowker, self-published titles grew to number more than 391,000 in the US during 2012, this figure is up by 59% from the previous year and up a colossal 422% over 2007 figures. This figure does not include titles that were published without an ISBN on platforms such as Amazon which could very well mean that this figure in an underestimate, what is not underestimated is that self-publishing is on a steep upward curve.
"The most successful self-publishers don't view themselves as writer's only, but as business owners," said Beat Barblan, Bowker Director of Identifier Services. "They invest in their businesses, hiring experts to fill skill gaps and that's building a thriving new service infrastructure in publishing."
This increase in the number of self-published titles is mirrored by the increasing professionalism of self-published authors, according to Barblan. "Authors' understanding of the publishing process and their expectations of the quality of elements like formatting, cover design and metadata have sharpened up a lot over the past 12 to 18 months," he said.
It's clear that this is a facet of the industry is only set to further expand in the next twelve months; here we will look at some of the strategies that anyone thinking of self-publishing should implement into their plans to ensure success.
Identify your target market
Before you can embark on the journey of self-publishing you will first have to identify your demographic, who are they? What kind of books do they normally read? Where are these kind of books usually sold? Where can this demographic be found? You should integrate with these communities and establish yourself within this realm.
Be as professional as possible
With the rise of self-publishing comes the very real danger that the market could get flooded with sub-standard examples, do not fall into this trap. Just because your publication is self-published doesn't mean it has to look that way, it should be impossible to tell the difference between your self-published publication and the ones from the established publishing houses. Ensure everything about your publication is as professional as possible; this goes for your content, the way it is written and the look and presentation of your publication. You might not have the necessary skillsets to complete all the tasks you need to self-publish, that's fine, simply hire wisely, whether that is a graphic designer to provide you with a professional cover or an experienced proofreader to eradicate any 'typos' or grammatical errors, then do it. Such errors will scream 'amateur' and no matter how good the basis of your content is, many people will simply move along when such mistakes are inevitably noticed. These services may cost you an initial outlay but it will be the among the best investment you ever make.
Create a niche market for you and your book
There are a plethora of publications vying for the consumers attention, create a marketplace that is individual to you, you want to stand out in your genre, you can achieve this through the adoption of a particular theme, image or concept. Whatever it is that you decide to pursue as your main concept then stick with it across all mediums and promotional aspects of your work, this can be through book cover, blogs, business cards or promotional work, basically anything to do with your publications. You want to create a market within a market; you want to create a brand for you and your work so it's easier to identify for consumers to identify with your work.
Utilize any and all marketing tools available to you including but not limited to Amazons tools
Amazon remains a self-publishers best bet of success through their gargantuan platform, although there are many other platforms to consider including indie options, Amazon has by far the widest reach of any. Amazon has many marketing tools that you can avail of such as special promotions or short term special offers that can drive up both the discoverability and sales of your publication.
Marketing your publication doesn't stop there though, get involved in niche websites and blogs that pertain to your particular area, promote yourself at every available avenue, encourage people to leave reviews about your publication, interact with any suggestions and comments they leave in a positive and engaging way that will encourage further engagement.
There are many methods you can employ to give yourself the best chance of success in self-publishing; I have only scratched the surface for the purpose of this blog but the possibilities, like the internet itself are boundless. It may be that you will have to find some of your methods, things that work for your publication in particular but one thing stands out amongst all the noise and that is the quality of your content.
Self-publishing is expected to break even more barriers and records this year with established authors getting in on the act, this is a genre which big things are predicted for in the coming year.
Fancy trying self-publishing? Why not utilize 3D Issue's fully functional free trial.