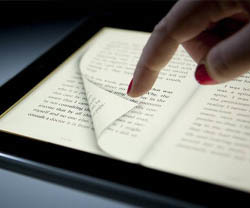 Self-publishing has come alive and is finally challenging the power house that is the "big five" publishing house. According to the Digital Book World, for the first time in a month, a self-published title is on the Digital Book World eBook Best-Seller list. The Arrangement 11 by H.M. Ward (No. 18) finally broke through after planned releases and discounted best-sellers helped the "big five" publishing houses dominate the eBook best-seller list for weeks.
This is great news for self-publishers and allows them to earn their just reward for creating a good title. Generally, a publisher will pay an author and advance for the book and also a pre-determined amount per book sold by means of royalty. By self-publishing, an author can make a lot more money from the royalties for each book sold.
How to get started is the key for publishers. Once the publication is created, how does it get converted into the correct format to be viewed on an eReader and then distributed?
3D Issue is a software that allows publisher to take a PDF of their eBook and then convert into the format for eReaders; .mobi, epub and epub3. Once a publisher imports the PDF into the software, they can then build the publication by clicking the Build button in the software and this will create a folder with the different eBook formats.

Once the eBook is formatted then the publisher can distribute the publication. The author can either put their eBook on their website behind a subscription platform available for download (once the ebook is purchased!) or can put it on one of the eBook online stores. For example the .mobi format was created for Amazon for use on Kindle devices. The publisher can take their .mobi file and contact Amazon to place on the Amazon store for sale.
To try out the 3D Issue 14 day fully functional trial, please click the following link; 3D Issue trial.
By Derek Kelly