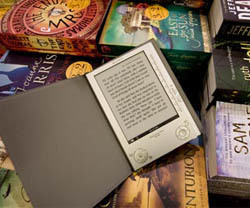 Today's blog will discuss how self-published e-books now account for 12% of the digital-publishing market, and why this trend is so high.
What is self-publishing?
"Self-publishing is the publication of any book or other media by the author of the work, without the involvement of an established third-party publisher. A self-published physical book is said to be privately printed. The author is responsible and in control of entire process including design (cover/interior), formats, price, distribution, marketing & PR." Wikipedia
Why self-publish?
There are many advantages to self-publishing. As a self-published author, you pay the full cost of producing your work and you are in charge of marketing and circulation. Therefore, the finished copies, the copyright, all subsidiary rights, and all money received from book sales are entirely yours.
"First-time authors may find it difficult to be accepted by a traditional publishing house because of the unpredictable sales of a newcomer's book. You can test your book's sales potential by self-publishing." http://www.morrispublishing.com/why/whatsp.asp
How to self-publish?
There are two main ways to self-publish via hard copies or by eBooks. Self-published eBooks now account for 12% of the digital publishing market using digital magazine creation software like 3D Issue.
The Irish Times wrote about the steep rise in self-publishing via eBooks. The author explains that self-publishing is "Nothing new" only the format has changed. In popular genres such as science fiction, crime and romance the statistic rises to 20% which is a fifth of all published eBooks. Significantly high representations of self-publishers are in the top ten selling eBook on amazon.com this month.
"Five of the top 10 eBooks on amazon.com were by self-published authors, or authors who originally published their own work." The Irish Times 22 June 2013.
Bowker's research, shows that the biggest readership for self-published eBooks is women over 45 and this can been seen through the Fifty Shades of Grey phenomenon that took over book sales in 2012. "Although cases such as JC Reed are rare the average self-published writer earns only a few hundred dollars for their accomplishments"
On the downside the Irish times article explains that although there are lots of self-published titles out there, they are often self-edited and as a result the quality of these books are poor.
Not only new authors self-publish, experienced writers such as Declan Burke, who writes a crime-fiction column for the Irish Times have turned to using e-publishing.
"E-publishing seemed a good way of reinvigorating interest in the titles so I bought back the rights to both books from the [original] publishers."
Declan and other experiences authors have a huge advantage as their books have been professionally edited and formatted. Some new authors are one step ahead, by having their content professionally edited. With successful titles they have since been contacted by publishing houses such as St Martin's Press and Pan Macmillan, Simon & Schuster and Penguin and Random house and given contracts.
To conclude, although self-published eBooks account for 12% of the digital publishing market and half of this month's best sellers on amazon are from self-published eBooks. E-Books can be hugely successful if they are professional edited and formatted. Producing a good quality book can see you reap the rewards as publishing houses such as St Martin's Press and Pan Macmillan, Simon & Schuster and Penguin  and Random house are on the lookout for non-risky authors who have proved themselves in the self-publishing eBook market. Image from the nice folks here.