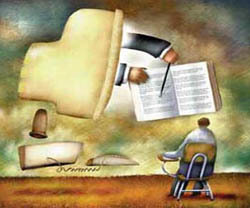 We also know the benefits of engaging in e-learning. Better study habits and performance with tablets increase reader attention. Interactive learning leads to better retention. Knowledge and learning material are more accessible to a wider audience when it is online. Printing and distribution costs are substantially reduced.
Sustainable solutions are built which can be updated centrally. Digital publishing software can put educators in control of publishing their coursework without having to build their own high-end digital publishing platform.
Engaging Content: The educator can enhance flat printed material with video, with audio and with slide show or photo galleries. Boasting in-built features such as the ability to take notes on a page, to search for key words or phrases, to bookmark pages, to print out material and to share articles across various social media platforms, it makes the material produced much more engaging for the learner. This encourages further discussion between the students themselves and also between the student and the publisher, with thanks to the inbuilt e-mail facility.
Cross platform access: It also solves the challenge of Bring-Your-Own-Device for both educators and students cross-platform access. Students may need to read and take notes on a Windows PC in the classroom, but then they want to pick up where they left off on their iPad at home. Or, perhaps the school provides iPads for classroom use, but the student has an Android tablet, or maybe a laptop, at home.

Offline Access: When your end readers view a 3D Issue publication from their smartphone or tablet device, they can now download the publication to the 3D Issue FlipBook Viewer App, allowing for offline viewing, and ease of access to your publications. Students can use the app to read the material off line at a time that may suit them better. Educators can even publish the material to a Facebook page using the Facebook App. Here it can be read without having to leave the Facebook environment, again encouraging further discussion. Your readers can now view your content when and where they want to.
Why not try it for free for 14 days from today and take your e-learning material to another level. Join hundreds of educational institutions already using this across the ESL environment, across campus, across colleges and schools today. For more information about e-learning solutions, free free to get in touch with one of our digital publishing consultants.
By Linda Daly