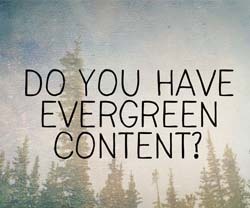 Evergreen content is content that will keep its relevance and importance over time.
Everyone is obsessing over this strategy as it helps achieve a consistent flow of traffic which is highly valued by search engines.
There are many advantages to using evergreen content.
The main advantage is that this type of content rarely needs to be updated because it will never go out of date. This will save your business time and energy that could be used towards something else.
In the meantime your content will still be generating leads and driving traffic without you having to do anything.
Clearly if your content isn't going out of date it is because it is a topic that interests your audience and that is still relevant.
What's more, since you're providing good quality, long lasting content that your users love, they will continue to go back to your site looking for more. This will increase your chances of your content being shared which will ultimately generate more leads and awareness for your brand.
Examples of evergreen content that you can create yourself:
• Blog posts on "Tips", "Best Practices" etc.
• Answering the most Frequently Asked Questions (FAQs),
• Tutorials
• ''How To'' guides
These are just examples of the kind of content that works well as content that doesn't go out of date (or that doesn't go out of date that often) but it is nice to include variety too. You can also create videos for example, and from time to time you may even need to create content that will at some point get old.
And you know what? it's perfectly fine, sometimes it's inevitable. When you launch a new product or add a new feature for example, creating a blog post about it could awaken the interest of your audience and even bring more sales. So even if the post gets old in a few weeks it could be worth the time.
The key is to maintain at least a 70/30 ratio between evergreen content and topical content.
The truth is that when attempting to write evergreen content, it can be difficult to get started.
However, there are a few guidelines that you can follow:
The first thing you should do when considering a good topic to write about is to ask yourself "will this topic still be of interest in a year's time?"
Then choose an enticing headline that will not only catch people's attention and draw them in, but also that won't go out of date. Avoid headlines such as "The best content marketing secrets of 2012'', instead use "The best content marketing secrets".
Unless your objective is to reach a very narrow niche of people that are highly educated on your industry, when thinking about writing content do it on a beginner's level.
By doing so, you'll be increasing the chances of more users stumbling across your page and sharing it with their friends and family. After all, the majority of people surfing the web are looking for answers on topics that are new to them.
Pay attention to the level of the language. The length is also valued. Make it long enough to be able to explain all the concepts and the important information, but not so long that results overwhelming.
Avoid numerical reports and any sort of statistics that could change overtime.
Use social media to the best of your advantage by re-sharing old content on your accounts so that it's constantly being recycled.
Since your content will always be relevant new people that hadn't seen those posts will read them and those who at some point already read them, may revisit them again.
Create a hub. Through the use of the hub your audience can access all of your content in one place. Old and new blogs, social media posts etc. all are stored and made available there so your customers don't miss out on a thing.
If you want to know more about Hubs you can ask for your demo here, and if you have any questions you can contact us at info@3dissue.com.
By Georgia Keys