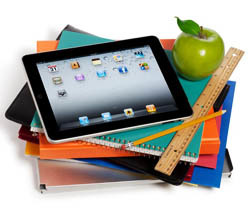 Schools and colleges all over the world are changing with the digital times. Computers are now a fast and firm fixture in every school environment. First it was the projector and the laptop, then the interactive white board and the internet. In the K-12 space computers and tablets are tools that enhance learning, complimenting not replacing many other teaching tools and equipment available in those young classes. Many secondary or middle schools have replaced their textbooks with e-books and at third level course modules and even entire courses can be made available online to remote students. Having those textbooks available to read on all digital platforms has proven quite a challenge but the end products, interactive books, make the entire learning process so much more interesting for kids. Video and audio files add a completely new dimension to their learning.
When marketing the school and its courses, schools don't rely simply on Open Days and the traditional printed prospectus. No longer can a school's history and reputation alone fill its courses. Websites must be maintained and kept up to date. Many colleges now have an online version of the prospectus available to read online or to download and read off line through the use of apps. There are YouTube Channels dedicated to colleges and virtual tours all over the web. Presence on the main social networks means that a school has a greater chance of reaching its intended audience with promotional material. If you scour the most popular app stores you will find many colleges and schools with their own branded app, through which they disseminate relevant information to students and their parents.

The range of devices used by teachers and students alike is vast. The desktop has been replaced by the laptop and slimmed down to a tablet, then shrunk again to the smartphone. Quite a high percentage of children post K-12 will own a phone. Chances are it could even be a hand me down smartphone, if not their very own new one. All published content must be easy to read and to search through on all these devices, a standard pdf version of the printed material will not be sufficient.
The past five years have seen an enormous change in the way that school technology has evolved. It's no longer represented by the desktop pc, banished to the corner of the room and only brought out as a treat. It's now an entwined in learning at every stage in the education process. Many pre-school children are already all too familiar with the touch and swipe behavior learned from their parents tablets and smartphones. School technology will continue to evolve and adapt going forward and will be an integral part of all learning.
By Linda Daly