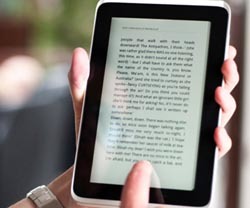 There is no doubt that the digital revolution has continued to be driven by the widespread adoption of tablets and smartphones, more of us than ever before are reading and viewing content online. It has now become so much of the norm that it is a daily occurrence for many of us. This meteoric rise in online content viewing and digestion led to eBooks becoming a serious player within the publishing market.
Not only this but the evolution of eBooks led to some advantageous situations arising from the flexibility and accessibility afforded by this type of medium.
In an article by Lisa Campbell for The Bookseller, Campbell reported, "E-books accounted for one in four consumer book purchases, up from one in five a year earlier. One in five of those purchases were self-published titles, according to the research, representing 12% of the spending on e-books. Self-published fiction titles typically sold for much less than professionally published titles – at £2 – whereas mainstream fiction e-books typically sold between £3-4.99. Around 40% of e-book purchases in 2013 were on adult fiction titles, compared with 33% in 2012, with adult fiction e-book sales rising to one in eight buys and children's digital books representing a tenth of e-book sales."
Many of today's most popular authors may never have seen the light of day if it wasn't for the platform provided through self-publishing tools, authors of the ilk of Roddy Doyle, E.L James and Amanda Hockings all persevered with their creations and made the breakthrough through self-publishing.

Many publishers may have felt that eBooks and the implements used to view them were no more than some flash in the pan when they were first introduced some years ago, this has proven to be short sighted thinking on many levels. EBooks are not only still around but they are still showing signs of growth. According to data released yesterday by Nielsen it was stated that eBook sales in the UK alone had increased by 20% last year.
This is clearly a market that is continuing to garner traction among users worldwide, with every passing day we are presented with shiny new devices that have enhanced capabilities between their covers. The latest move within the industry, SmartWear, will soon go mainstream; it wouldn't be a massive gamble to predict that there are countless other devices in the pipeline such is the insatiable thirst for implements in the digital evolution.
This insatiable thirst leads to an equally insatiable quest for content, content that has to be presented on devices across the board which is exactly what 3D Issue eBook publishing software will provide.
Have you tried out the free, fully functional trial yet?
By Charlie Gallagher