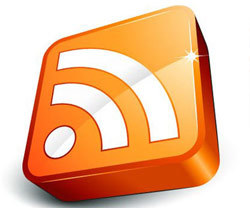 Rss syndication has been with us for a while now, roughly since around 1995 but it is only in this past few years that it has really taken off. This can be attributed to a number of factors, widespread internet access, smartphone ownership eruption and general year on year increase in the usage of the web as source of information and content.
Rss syndication has been covered in these blogs before but just in case you aren't 100% what rss syndication is, the well put meaning of which can be found here thanks to James Kimmons from About.com Guide
RSS definition: "RSS, originally Rich Site Summary, now stands for Really Simple Syndication. It is a method by which web content can be easily and quickly distributed when it is changed or newly entered into a web site or web log. Most blogs automatically include an RSS feed. This feed automatically sends out formatted releases of new posts that are received by those who use RSS news readers and subscribe to that particular feed."
The way we gather information has changed over the years, whereas before we would have went to our favorite web sites and took in the content they published; new ways of performing these tasks became a necessity as the amount of quality content available to us quickly grew. It became all too time consuming to manually check every source of interest. No longer was simply bookmarking all the sites you had an interest in going to suffice in your daily quest for knowledge and high quality content.

Step forward rss syndication
The need for a method to garner all the content in a practical and time saving way became apparent, the advent of the rss feed went some way to solving this conundrum. Rss syndication allowed us to locate high quality content that could be delivered to us via rss readers in the vein of Hubs. We now had a means of having high quality content delivered straight to us within seconds of the information being published, no more trawling sites continuously to keep updated on the latest content and information of interest to us. No more missing out on that piece of data you have been waiting for as you forgot to check a particular website. Rss syndication will ensure you never miss that vital information again.
How does this help me and my business?
Let's say you have a blog for your company, (if you don't, it's something you should give due consideration), interested parties can subscribe to your blog via rss syndication thus opening up your website to traffic through the viewers of your blog who can click onto your site when reading the content. Rss syndication isn't exclusive to blogs, web pages, video's, audio can all be used in this process, basically any content you have can be utilized and syndicated.
All of this content can lead back to your site through links within the content; this is a great way to increase traffic. All these different mediums will reach out to differing social spheres, maximizing your potential, and, in the process, help build your brand.
Having a statistics engine like the one built into 3D Issue Hubs is a great way of seeing what is being consumed, how long is being spent reading your content, what are the areas that interest each individual reader, or what types of articles have the highest efficiency and much more. This is all invaluable information for marketing purposes and, if necessary, deciding which way to pivot next.
Making it work for you
Rss syndication is an easy way to push your company's message, current events and news, press releases, blog posts—basically anything and everything you would like your audience to know about. It also allows you complete control of your message online, and helps you facilitate further dialogue between you and your customers.
Not only this, but you can also choose to supply the consumer with related material to your field of expertise, by doing so you are further educating and informing your consumer base of current trends within your marketplace and in turn, boosting your standing as a source of reliable, high quality information.
High quality content is paramount
It is at this point I feel that I should highlight the absolute cornerstone of any rss syndication, and that is high quality, relevant content, it cannot be stated enough how vital this is to your business in a plethora of ways. High quality, relevant content will ensure that you are at the top of the list when it comes to where your consumers turn to in their quest for knowledge. Supplying such premium content will ensure your brand and reputation continues to grow and garner traction. You will position yourself as a thought leader and this will show through consumers repeatedly visiting your site and increasing your sales.
All of the above points in relation to rss syndication can be utilized through the use of Hubs. It is the perfect platform from which you can both push and pull content to and from your website, its many capabilities will provide your business with the cutting edge it needs to survive and prosper in today's content laden world.