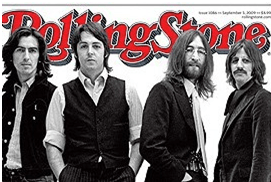 Since the introduction of the Apple iPad in 2010, the platform has been one of the greatest additions and all round successes in regards to the shift of the publishing sector from hard copy to digital publications. According to this source 'the iPad is a resounding financial success, with sales in excess of $25 million units so far'. A range of industries have adopted the use of the iPad to reach an ever growing audience in this platform. So it is not surprising that the music industry has also joined in the iPad buzz.  This article reports that the Rolling Stone 40-year-old magazine is launching an iPad edition with direct 'buy' links for iTunes.
Is this the right time to move to the iPad platform? In the word of the founder and publisher of the Rolling Stone's magazine 'the launch is a planned progression which began in 2010 with Rolling stone's Beatles guide app and continued with a music news iPhone app and the launch of US Weekly on iPad last May'
As a result, their experience is a good example of the relevance of planning your move to the different platforms available in the digital publishing sector. It is necessary to implement a strategy to take the right steps gradually and integrate them successfully. In this particular case, the Rolling Stone magazine is strategically integrating different platforms to reach a wide audience. This article reports that a digital edition of rolling Stone is available for Kindle Fire, Nook and Zinio.

What makes their iPad edition especial? The iPad edition is optimized for the tablet and fans will be provided with a link to purchase their favourite songs as well as the opportunity to listen to music samples. Certainly, the Rolling Stone magazine's effort to provide the digital audience with more accessibility and practically to purchase can be the right course of action to build their relationship with their fans and reach their prospect ones.
Image thanks to the nice folks here
By 3D Issue