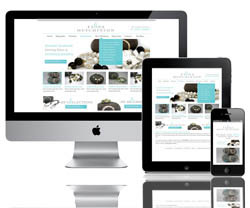 In today's blog we are going to take a look at Responsive Web Design (RWD), what it is and why it is essential for your business.
So what is 'Responsive Web Design'?
Responsive Web Design is an approach aimed at crafting websites to provide an optimal viewing experience for the end user – basically no matter device they are using, RWD will ensure that your site, and your content, is accessible to the consumer. So what this means is that whether the consumer chooses to view your site on a PC, mobile or tablet the viewing experience will be uniform. This approach enables the consumer to digest your content with a minimum of resizing, panning and scrolling on their part which in turn results in a richer, more productive experience for all concerned.
So, why is it essential for your business?
The world at large has gone mobile, in a recent study by Super Monitoring and Mobile Cause there were some very interesting statistics concerning mobile adoption and how it has influenced our online habits.
They included statistics such as the following;
• 51% of internet searches occur on a smartphone
• 50% of mobile phone users use mobile as their primary Internet source
• 72% of tablet owners purchase online from their tablets each week
It's clear the direction content consumption is taking, mobile usage for online viewing has overtaken PC's for the first time and this trend is widely expected to continue and indeed keep growing in the week, months and years ahead. In today's uber connected world it is essential that you not only have a web presence but also that that presence is viewable on any device, across the board.
Failure to do so could infringe on your businesses ability to attract and engage consumers, you don't want consumers to find your site and then discover that it doesn't format correctly to the device they are using. This will not only reflect badly on you but will also lead to the consumer moving on to a site, usually another competitor as they will be seeking particular service or product, who does.
It is difficult enough to get eyeballs on to your site in the first place, don't allow your sites lack of responsiveness be the mitigating factor in the consumer moving on to another. Responsive Web Design is crucial to your business and its future prosperity, it has gone from a 'should have' to a 'must have', largely due to the mass usage of mobile devices for utilizing the web.
The quote below by James P. Lewis sums up the situation well.
"If you always do what you've always done, you'll always get what you always got."
― James P. Lewis, Working Together: 12 Principles for Achieving Excellence in Managing Projects, Teams, and Organizations
Would you like your content to be responsive in order for it to fill its potential and reach the maximum amount of consumers?
Try out Hubs for free and give your content the platform it deserves to prosper and flourish in an increasingly busy online world.