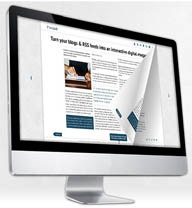 Much of the way an educational publisher presents content is based on what they know is possible with the printed page. But the page has changed—it's no longer the rigid, rectangular object it once was. It's important to think about how best to present your content given these new boundaries—one of the key aspects being that these boundaries change.
We live in a multi-device world. The growth of internet enabled devices such as smartphones, tablets and laptops means that increasingly we have to deliver learning solutions that work on all devices. This is not as simple as a desktop solution and a mobile solution, what is required is a multi-device solution. Luckily developments in HTML5 mean we can now develop a single e-learning module which will work on all devices. The solution is responsive e-learning ,which is available because of Responsive Web Design(RWD). RWD was first used by Ethan Marcotte in his article in A List Apart in 2011
Content is king. Using a responsive web design approach to display your educational content means that your time is spent on ensuring you have sourced the correct content and not spent worrying about how to make it available on all mobile and tablet devices. One size fits all.

There are several tools out there today that will allow you curate your content from several known web sources, including blogs, rss feeds and other web pages. The content can now be curated online and then presented in a dynamic and responsive design. 3D Issue Hubs is one solution that allows you to add a web source immediately such as a blog or feed and watch it build content dynamically in a digital magazine format that can be accessed on all devices. Watch your content in a responsive design layout.
By Linda Daly