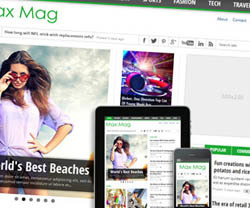 I'd be willing to wager that you are reading this on one of a plethora of media devices; that could be your desktop PC, your smartphone, your tablet or some other connected device. This is the world we now live in; we are all connected to the internet in one way or another through a variety of devices. The world and the world of technology in particular is continuously evolving, we have come a long way since the first mobile phone by Motorola in 1973, (I say mobile lightly, it was mobile as long as you had a rucksack to carry it in!). Network capabilities, from 1G to the present 4G have continuously broken barriers with what we deem as normal and capable. What we now take for granted would have been deemed a sci-fi dream not that long ago.
Too often nowadays we let this fact slip from our minds, if we have a question or we are seeking information about a particular subject, it's all too easy to log onto to the net and locate the information we require, our forefathers would have jumped for joy at a resource that, nowadays, we generally take for granted. There is no doubt the internet has revolutionised the way we locate and digest content, more than ever before, we have a near unlimited source of information available to us. All these resources are readily obtainable, and literally right at our fingertips.
The advancements in terms of communications and how we now receive news and content has been nothing short of astonishing, sit for a moment and think to yourself about life before we had instant access to the internet, social media and email. Cast your mind back a little further (if you can!) to before mobile phones themselves, before text messaging and calls on the move, seems strange I'm sure but all these developments which are such an intrinsical part of our everyday lives have only entered our lives in the last few decades yet today they are ingrained in the very fabric of our society. Don't believe me? Try switching off all networks for 24 hours and sit back and watch the reaction!
The evolving continues
In keeping with these advancements in communications we have a fairly recent, some would say overdue development in how we can view websites from across the web. We, as a global population have gone mobile, smartphones haven't just moved the goalposts in terms of how we access the internet and the colossal amount of information and data it contains, they have kicked the ball out of the stadium! 40% of your online traffic is now mobile, this is a market share that would be business suicide to ignore, businesses simply have to cater for this market. Many brands allude to this change in attitude and application by users and in reply are adopting a 'mobile first' approach. They ensure the content looks good and is fully accessible on mobile before scaling it up for tablet and desktop sizes. Mobile conversion rates have been shown to be making ground on desktop and tablet conversion rates and in some cases even surpassing them.
So with such a surge in smartphone usage, (it is now estimated that at least 50% of people who own a mobile phone have a smartphone and the figure is expected to continue to grow exponentially), publishers and websites have all had to pivot their approach due to this seismic shift in attitude and application. If a consumer is surfing the web and comes across your website and it isn't optimized for mobile or tablet use they will instantly move on to another site. The general rule of thumb is you have seven seconds to grab the consumer's attention; this will contract immeasurably if your site is not optimized for smartphones, tablets and any other device the consumer chooses to use to consume content. Recent studies have found that 67% of users claim they are more likely to purchase from a mobile-friendly website, companies that rely on SEO are wise to begin making the transition to mobile-friendly websites. Thankfully this transition is being eased by the rise and of responsive web design.
The traditional magazine
The traditional magazine has benefited greatly from the advent of responsive magazine publishing, it has opened up a whole new realm in terms of the way we view and digest content online. Some would argue that the online magazine has presented a threat to their very being but a more likely scenario is that the world is online and not likely to change anytime soon so it is down to publishers and websites alike to pivot and adjust their approach. Cheaper production costs, instant access, a huge potential audience, unlimited space, instant reader participation and the use of paywalls and advertisements to generate revenue all give the publishers the opportunity to grow their publications in tandem with the online revolution that surrounds our every step. Smartphone and tablet users have also benefited from this new way of thinking about the traditional magazine, portability, convenience, instantaneous access and a 'one design for all' approach are just some of the numerous advantages that online magazines using responsive web design can employ.
3D Issue Hub encompasses all these necessary facets of web design in today's ultra-connected, online world, it is pushing the boundaries in terms of what is achievable through magazine publishing using it's stylish interface and unique features. 3D Issue Content Hub utilizes the beauty of responsive web design so your publication need never miss out on any traffic due to ill-fitting websites, 3D Issue Hub will dynamically check the resolution of your readers' device and automatically format your content to suit that resolution. No pinching or zooming, just beautifully formatted pages.
The platforms ease of use coupled with its new and distinctive approach to responsive magazine publishing has enabled publishers and designers alike to avail of the many advantages it endows them with. A fully customizable responsive magazine is only a few short steps away.

Unique features
What if you could create a magazine that updates by itself? 3D Issue Hub provides this very feature, simply connect the platform to your rss feeds or blogs and sit back and watch as the platform updates every time you update your blogs or rss feeds, no more continually sending updates or spending unnecessary time adjusting updating your magazine. The content you provide will always be fresh and up to date, a real asset in your armoury in an online world that demands up to the minute information as soon as it is available. The internet has many capabilities when it comes to the media it can utilize, why not instil these features in your magazines to enrich the end users experience?
One of the real beauties of online magazine publishing is you are not limited to the written word, online magazines can also take the form of video, audio and multi-media resulting in a responsive digital publication that is truly interactive and engaging for the reader. 3D Issue Hub can also allow you to monitor everything from how long the reader spends reading your magazines, to which area that interests each individual reader the most, or what types of articles have the highest efficiency making it easier for you to pinpoint what is resonating with the consumer and to allocate extra resources in these areas if necessary.
This is imperative in deciding on what content your target market is interested in and what appeals to them most, once you have this information, you can tailor fit your publication to suit. 3D Issue Content Hub also allows for Custom URL's enabling you to create your own unique URL's to suit your brand and make your content archive resonate with your audience and enhance your search engine visibility.
The world has many ethnic identities and languages, with this in mind 3D Issue Hub supplies RESTFUL API, RESTFUL API that exposes all of the functionality to all users. With this you can build your content in any language, on any platform and integrate into all of your applications. Some of the most frequented sites in the world today are social media orientated, this is a region that is simply too vast to ignore, 3D Issue enables you promote your content throughout your social network with social sharing tools. Allow your readers to help increase traffic to your content by enabling them to easily customize your content around their interests and promote your content through their social network.
The world is online, it is constantly evolving and by embracing and utilizing 3D Issue Content Hub to its full potential you can ensure your website and business continues to evolve with it. All of this and with the minimum of fuss or disruption, it really is that easy.
Try a free trial today.