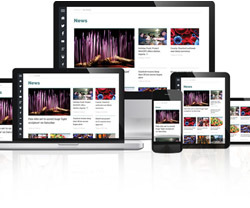 We've heard a lot about responsive design and its importance to your digital marketing efforts, but what about responsive content? How does your content appear on different devices? is it actually responsive?
Responsive design and responsive content
With the increased usage of mobile devices responsive design is now a must for everyone with an online presence. Its main purpose is to recognize the screen resolution of your reader's device and change the web layout accordingly so they can have the best experience.
A small, yet important piece of the responsive design is the responsive content creation. Your web and graphic designer team will provide you with a suitable layout where your content should be placed, but it's up to you to fill in the blanks with content.
What makes content responsive
Tl;dr
Too long; didn't read. No matter how good your responsive design is, if the content you publish is mainly opened on mobile devices but it tends to be on the long side, there's a high probability your reader won't read it, at least not all the way through.
To avoid this, always bear in mind both your communication channels and the type of devices your readers use, and plan the length of your content accordingly.
Customization
When creating an article for your blog for example, think about the best way to present it on a mobile device. Always try to think on how it would read and look on a smaller screen. You may be better off leaving out some of the elements you'd include if you were only publishing for desktop.
When your readers access your content on their mobile device they are frequently out and about, and want to see a short yet informative version of your content. That's why non optimized ads and aggressive landing pages may increase your mobile bounce rate.
Image optimization
Responsive content means having well optimized images. High resolution landscape images look good on your PC, but what about mobile devices? Optimized images should be:
• Visually appealing
• Striking
• Scalable
The benefits of responsive content
Having responsive content on your site sends the message that you care enough to spend the time and effort customizing your content to provide always 1a nice user experience.
Here are some of the most important benefits of creating responsive content:
• Decreased bounce rate on mobile devices
• Increased conversion rate on mobile devices
• Increased usage of mobile devices by your readers to reach your content
• Increased user engagement
The easy way to responsive content optimization
Making sure each piece of content you produce is optimized across all devices can be time consuming. One mistake and you could end up with a 1900×1200 picture for the mobile version of your blog.
But fear not, there are tools like 3D Issue Hubs that will make your content mobile friendly automatically.
Take a look at our publishing suite and see how you can automate your publishing efforts while providing a good platform for responsive content creation.
If you have any questions or want more information, send us an email to info@3dissue.com.