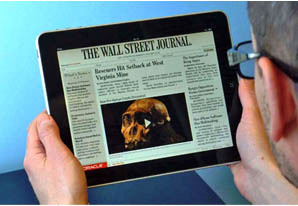 One of the most important aspects to ensure the success of your publication is keeping up with technological advances as well as fulfilling the consumers changing expectations. Nowadays, the digital audience demand content that looks great on different kinds of devices and publishers seek to ensure that the viewing experience enhances their brand.
The purpose of this blog is to analyse what reflowable content can bring to your digital publication and its impact in the publishing industry.
What is reflowable content?  Reflowable content simply means that your content is able to adapt automatically to the screen size of the readers' devices.
The use of Reflowable content ensures a consistent reading experience across multiple devices.
3D Issue Hubs creates your digital publications in Reflowable content so that no matter which device your reader accesses the content from it will always display at the optimal level. Check out the samples at 3dissue.com for mobile and tablet for more info.
Undoubtedly, in the near future reflowable content will become more relevant for the publishing sector since the latest Sony readers (PR5 and PRS-700)  already use the technology  and a number of companies announced plans to incorporate reflowable technology such as Bookeen, iRex technologies, Lexcycle, Plastic Login, Polymer Vision Ltd and Spring Design.
As a result, it is relevant to take into account reflowable technology to provide to your readers the best digital experience and make the most of this technological advanced to ensure the best result when viewing your digital edition in all devices.
Reference:
http://www.teleread.com/ebooks/reflowable-pdf-to-be-available-for-cybooks-irexes-plastic-logic-machines-and-others-in-addition-to-apps-such-as-stanza/