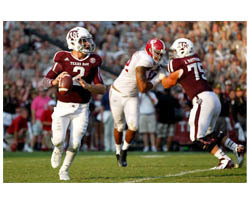 I read in an article earlier today that college athletics programs are costing colleges and their students millions. College sports create undeniable campus pride and identity, but spending has increased so fast that it's taking money from academics and student services. The University of Cincinnati and Miami University in Oxford, Ohio, for example, added $6 million and $1.2 million, respectively, this year to prop up their already heavily subsidized sports programs and keep up in the national arms race.

Many claim to be predominantly subsidizing the student, not the sport saying that investing in them as students, and graduating them is a story that's not being told. The NCAA data show that only 16.2 percent of the spending at Division 1 schools with football, such as Miami, goes to student aid. The rest goes to salaries, game expenses and facilities.

Several college athletics programmes are looking at ways to cut down on their expense. For most schools, the revenues don't keep pace with the expenses for coaching and administrative salaries, facilities, scholarships, and other sports costs.

Reviewing the spending on marketing here we can see many colleges today are spending several million on their efforts. Moving to digital publishing is one way that schools can cut down their expenses here.

How could a college sports department benefit from the use of digital publishing?
• Attract the top coaches showcasing your sporting prowess through live digital magazine using video and sound.
• Increase attendance at those games, providing snippets of those "golden moments" in your newsletters.
• Communicate and distribute your calendar of events across all mobile platforms.
• Capture those magical moments of the season in video and include is your publications.
• Let your advertisers reach your audience through banner and video advertising.
• Catalog your merchandise like Duke University Store.
• Create wonderful Yearbooks like NC State Athletics
• Create promotional material for supplementary programs such as the Football University
• Seek further funding from Alumni and private investors, in the form of Gift Donations like La Sierra.
Northern Illinois University have developed a great digital brochure online for their 2013 Football Ticket Information. In it they have embedded promotional video clips and links to their website where the tickets can be purchased directly online. Just one example of sports departments in colleges everywhere showing initiative in this area.
By Linda Daly