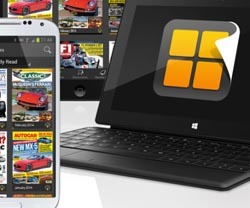 Online subscription based services have proven extremely popular in recent years; we only have to look at the success of services such as Netflix and Spotify to reaffirm this. It was then, only a matter of time before someone came up with a similar model aimed towards the digital magazine publishing industry.
This is exactly what the founders of the app 'Readly' have envisaged and created. Launched last month across the UK, (it was previously only available in the US and Sweden), the service offers a fresh approach within the digital publishing industry and is being billed as a new way to open up revenue channels for publishers. Readly is a subscription based service available on mobile, tablet and laptop devices, which endows the consumer with unlimited access to magazines from partnered publishers, all for £9.99 per month.
First conceived by founder Joel Wikell while on vacation in 2012, the idea first came to Wikell when he was listening to the hugely popular Spotify music service and had plenty of time to read but found he was running out of reading material. It was then that the idea came to him to create a 'Spotify for magazines'. The app is aimed towards building on the hugely successful subscription models already in place for music and film, except this time aimed towards the digital magazine publishing industry with the aim of attracting a in the larger audience.
Publishers can be forgiven for being apprehensive about this innovative new app, after will this not infringe on their audience? Will it affect their revenue stream? According to Readly themselves this is not an issue, they claim that data gathered from their launch in Sweden shows only a two percent overlap between its users and publishers customer data.

Publishers who avail of the app can monetize their creations through a proportional cut of the subscription fees based on readership. They can also monitor their publications performance through the analytics platform available within the service.
"Readly offers an additional revenue stream, general profile-raising and really granular consumer insight," said Readly UK MD Ranj Begley. "It is a win-win model for everyone. The publishers we have spoken to so far have been really excited by the service."
The launch has also gathered support from the Professional Publishers Association (PPA) with its CEO, Barry McIlheney, commenting: "Readly will offer UK consumers a new proposition for magazines; one which we believe will add real scale and presence to what publishers are already doing themselves individually."
Readly is planning a global rollout throughout 2014.
Is it time for your publications to get involved in the digital publishing industry?
Why not try out the free, fully functional trial of 3D Issue today.