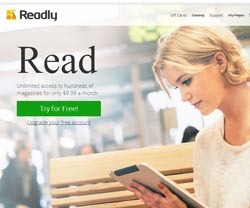 At this point you are all probably familiar with my proclamations of the virtues of smartphones and tablets or rather how they have infiltrated our lives in such a rapid and complete manner. In a further twist to the smartphone and tablet adoption tale it has emerged that Readly, a subscription based service which endows the consumer with unlimited access to magazines from partnered publishers, have made further advancements in their endeavors since we initially covered their launch at the start of March this year.
Following the blueprint that has seen Netflix and Spotify enjoy major commercial success; Readly has opened the doors to magazine publishers worldwide. Originally launched in the US and Sweden and now available in the UK, subscribers have the choice of 114 magazines, (418 if you count the US and Swedish titles), to choose from, with the option of browsing backdated issues spanning over 12 months. The titles will be available across five Android, iOS and Windows Phone devices for £9.99 a month with new magazines and publishers in the pipeline over the coming weeks. The list of publishers already on board includes Haymarket, IPC, DC Thomson, Chelsea Magazines, Saga Publishing, Aceville, Eye to Eye, Wild Bunch Media, Time Out, The Lady, Prospect, Rouleur and Greenways.
https://www.youtube.com/watch?v=2EBeVssYDlg
First conceived by founder Joel Wikell while on vacation in 2012, the idea first came to Wikell when he was listening to the hugely popular Spotify music service and had plenty of time to read but found he was running out of reading material. It was then that the idea came to him to create a 'Spotify for magazines'. The app is aimed towards building on the hugely successful subscription models already in place for music and film, except this time aimed towards the digital magazine publishing industry with the aim of attracting a in the larger audience.
The titles on offer take around 40 seconds to download over wi-fi and a little longer over 3G and will provide offline reading, streaming titles will take as little as five seconds before you can start reading your title of choice. Interested consumers can avail of a two week trial before subscription, much in the same vein as Spotify and Google Play Music.
Per Hellberg, CEO from Readly said: "Readly provides users with access to the most current magazine issues as well as a huge library of content that is often not available to readers because of storage issues. It allows publishers to exploit both their current and long-tail content while giving subscribers access to a new consumption medium for magazines.
"Many aspects of entertainment consumption such as music and film have already demonstrated the effectiveness of the subscription model and magazines are a natural development of this trend."

It is generally accepted that these are tough times for publishers worldwide, this approach by Readly is a breath of fresh air and a welcome addition to the avenues of revenue generation that publishers can employ in this time of economic struggle. Publishers who avail of the app can monetize their creations through a proportional cut of the subscription fees based on readership. They can also monitor their publications performance through the analytics platform available within the service.
New methods of generating revenue are increasingly opening up for publishers; this is especially true within the digital publishing platform. The world is now online and this latest inception by Readly is further proof that success can be attained in the face of adversity through innovation and digital publishing software such as 3D Issue.
Have you been thinking of trying out the digital platform for your publications? Why not try out the free, fully functional trial of 3D issue today, you have nothing to lose and everything to gain, you never know, we may be reading your creations on Readly in the very near future!