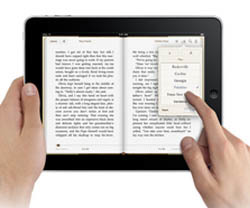 New research by Adobe has shown that readership is rapidly growing due to the introduction of magazine applications on the iPad, Smart Phones and Tablets. Adobe's DPS powers 75% of all magazine apps on the iPad and they have seen a rise in the use of digital publications from 300,000 per week to 2 million per week in just 18 months.
This trend is being observed throughout Australia, USA and the UK. Nick Bogaty, Marketing Director for Adobe's Digital Publishing Suite (DPS) cited on www.itwire.com explained due to the popularity of smart devices subscribers for digital only versions is almost equal to the number that subscribe to print plus digital with readership in America doubling in just 6 months. "25% of all readers access magazines through their Smart Phones."
Traditional print such as newspapers and magazines are becoming a thing of the past says Nick Bogaty. In the past advertiser's battled for double page spreads in full colour. Since the introduction of magazine apps readers are opting for online reading on iPad instead of conventional print, forcing advertisers to use interactive advertisements to their advantage reaching new groups of customers.
Nick talked about Top gear magazine who moved from traditional print to digital editions. "In only three months the number of downloads went up 48%, and the number of paid downloads by 62%. More importantly, subscription revenues went up 165%, and ad revenues by 200%. That's in three months!"

www.cision.com blog says other advantages of digital magazines range from increased reading time to saving money. "The overheads of running a digital publication are significantly lower. "The graph below shows the change in the "title" numbers for digital and print magazines between September 2007 and September 2012.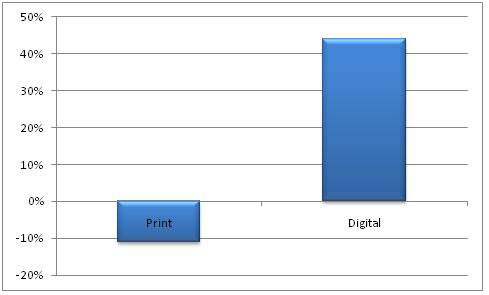 "Digital titles have increased 44% compared with print's 11% decline"reinforcing what Nick Bogaty's research that readership has doubled due to the use of magazine apps on ipad and other devices.
By 3D Issue