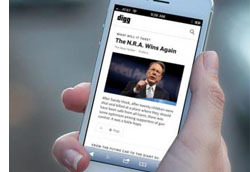 The demise of Google reader has created a chasmic void that that is crying out to be filled; there are many willing heirs to the throne, all claiming equal rights. Each has varying advantages and disadvantages in their quest to be the 'go to' reader platform. This has led to continuing developments and advancements across all platforms as each one tries to ensure that it is theirs which will capture and the consumer's imagination and crucially, retain their attention.
At the end of August, Digg finally launched an android app through Google play store for their platform, the app allows users to log in with their Facebook, Twitter and Google accounts then search and add news feeds. Displaying the latest news stories and RSS feeds that you have subscribed to, Digg's app is available across all android smartphones and tablets.
While the latest app offering from Digg lacks some of the present features available in its iOS counterpart, such as "show only unread items" view, the ability to tweak text size, display modes and background updating behaviour. It is indicating that these features, while currently in beta will be available within the next few months. The features it does encapsulate are similar content being grouped into folders for easier browsing and the ability to post stories you 'Digg' to your Facebook feed.
In a similar vein to the web version of Digg, the app will include up to the minute stories from the Digg homepage as well as the Digg reader, in June of this year Digg launched its beta platform that including RSS syndication, their iOS app simultaneously followed suit. According to Digg officials the platform is targeted at "power users" – internet users who depend on using a fast, stable RSS platform daily.
The world as we know it is changing and continues to change
This approach reflects the shift towards mobile synchronization, the world is now online and companies have to pivot their approach to reflect this, studies have indicated that nearly 50% of your online traffic is now mobile so it is a market while continuing to grow at an exponential rate and simply cannot be overlooked.
It is a crucial part of any companies marketing strategy to be 'mobile friendly', the figures available to us strongly suggest that if you are not easily accessible to potential consumers on mobile interfaces then you are seriously impeding any possible growth and reach that you could have.
Mobile apps for content curation tools are the new 'breakfast ritual' in the same vein as the newspaper in times gone by, the idea is similar except that it is digital, it is mobile and it encompasses all the content you have chosen to digest and not what you are being told you should.
The critical part of this is the time and energy taken, the use of which should not exceed that of which is absolutely necessary, after all there are other important things that will require your attention throughout the day…..such as taking care of your business.
Most people want to be kept up to date with all things they have an interest in, both from a personal and professional aspect, but don't, (and can't) spend all day doing it. As mentioned in the previous paragraph, there are more important things to do throughout the day. This doesn't mean that content curation is not a valued tool, far from it; it is one of the most successful ways of promoting your brand and relevant information from your market sector that helps build relationships with consumers.

News technology has changed the way we think of, and view the world as a whole; we can now make our own minds up with the various mediums available to us. People on the ground are contributing more and more to what we see and hear every day. We are a global tribe of scribes with journalistic tendencies, who, with the technology at out fingertips (literally), are only too willing to participate to the story.
There is no doubt that the internet and the news technology available through it, is a wonderful resource and one that has changed the face of news technology and the world as we know it. There is a slight problem with all this information…..that is exactly it, ALL this information!
The sheer quantity of information available to us, while being fantastic can be overwhelming on a day to day basis, while we might like to digest all this information, it's not always practical or possible. This is where rss aggregators and content curators such as 3D Issue Hub play such a pivotal role.
The real beauty of all of this from a publisher's point of view is the referral traffic that can come their way; some publishers have been reporting a 40% increase, month on month, as a direct result of traffic referral through such channels.
You need never miss out on any news, or the possible referrals that you may gain through them again.