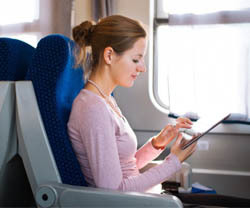 Going digital can open up a whole new world of opportunities to reaching a wide audience – online or offline and creating publications suitable for multi device viewing.
Which are the main elements to take into account when designing a magazine for multi-device consumers?
This article entitled 'Inside Dujour: Designing for a Multi-Device Age' provides us with a key point to be considered when creating publications for multi device viewing. This article explains that DuJour magazine 'was released simultaneously in print, online, and for mobile, social and email platforms and its website was optimized for tablet and smartphone reading from inception'.
According to this article one of the key elements DuJour took into consideration was the design aspect:
* Design the kind of content that suits different platforms: 'DuJour's design is both original and refreshingly streamlined – meant to be read on a tablet. Likewise, visitors can choose to peruse content in HTML5 or flip through a digital replica of the print product'
* Keep the design consistent and optimize for different platforms: 'DuJour's magazine uses hotspot buttons on images at a specific size so that readers can interact with them on mobile while not obscuring the image during regular viewing'.
* Convey your intended message through your design: DuJour's magazine uses particular colours, photography and fonts to project a sophisticated and elegant image; appropriate for all devices
* Complement the print product: DuJour's digital magazine was designed to complement the print product. The whole project is integrated to communicate the same message consistently. DuJour looks and feels cohesive across platforms.

Providing access to publications regardless of the device or technology being used is gaining more relevance in the publishing sector at the present time. So, why not try a software solution that will let you create publications for multi device viewing. 3D Issue can allow you to do just that; simply by selecting the formats in the Output tab and building your publication. For a step by step guide, attend an online demonstration to view the process of creation and download our free trial version to test the content of your own publication in multi devices.
By 3D Issue