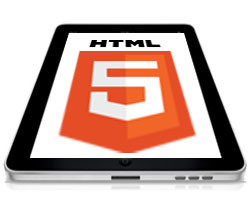 Why is HTML5 digital publishing so important? If you are considering this platform for your next projects, this blog can provide you with practical answers to 3 of the most common concerns about HTML5 iPad and its implications.
1. How to get started: You can simply use the existing PDF of your publication or design a PDF taking into consideration the following:
– The content: Ensure the content of your digital edition suits this platform – take into account the space available and use straight to the point information with relevant links for more information
– Take into consideration that Apple does not support Flash – use an image as a background so your end readers do not realize that they are missing the flash feature in your digital editions
– Integrate this platform with other platforms currently used so that every channel can be a part of the overall objective of the company
2. How to optimize publications for iPad: An effective way to optimize your digital publication for iPad is providing accessible content to your end readers on the move via apps. With 3D Issue, you can simply select the iPhone/iPad App format in the output tab to allow your end readers download the issue to the 3D Issue FlipBook Viewer App when they view your publication from their iPad. For more information, watch our video tutorial 'Creating an App for iPhone and iPad' in the spotlight features section.

3. What can be expected in the future for HTML5 digital publishing?
The current trends indicate a promising future for HTML5 digital publishing as the platform grows in popularity; its potential to reach a wider audience as well as the profitability factor are also on the rise. For more information on the future for HTML5 publishing, check out these blog posts:
PDF to digital magazine for iPads, iPhone and Android devices
Rolling Stone magazine gets an iPad edition
Is your digital magazine available on ipad?
By 3D Issue