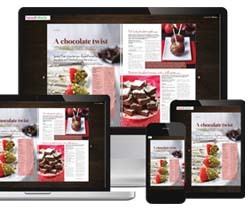 Where are you reading this just now, I mean right now, where are you reading this? You are more than likely reading this content on a smartphone, tablet, laptop or PC. Smartphones and tablet adoption rates in particular have grown at an amazing rate during the last few years. These are now by far the devices of choice for the consumer.
These stratospheric adoption rates has led to ever more content being consumed online, think about it, you want to find out about a service or some other piece of information, what is the first thing, generally, that you do? Yep, you guessed it, we instantly reach for our smartphone or tablet, a few presses of a responsive screen and bingo, there is your answer. Research carried out by the Pew Research Centre tells us that 28% of Americans adults read an eBook in the past year. The same survey goes on to enlighten us with facts such as over 50% of Americans now own a tablet or an eReader.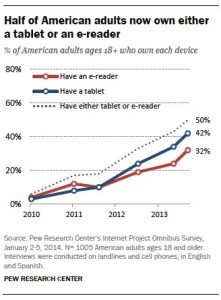 It was only a matter of a few days ago I wrote up a blog highlighting the growing influence that Digital Publishing was also having in Canada, make no mistake, this transition of content consumption and reading habits is evolving and growing worldwide. It is now then, more than ever before, vital for publishers and businesses alike to have a structured digital publishing strategy in place. These strategies form the basis of today's blog, I hope you find some of the points useful and if you have anything to add please leave a comment at the bottom of the article, ok, here we go.
• Establish a subscription website
There is various models that you can use but at the very least your site should be equipped with SEO content to drive traffic and an actual portal for you to sell your products from.
• Ensure your website is built to optimize conversions of visitors to email subscribers
Make sure your website is built to optimize conversion of visitors to email subscribers. This means having a free report for every category of your content, and harvesting email addresses in return for those reports. Your email list consists of your most engaged, loyal fans, and they're far more likely to buy your subscriptions and other products than random visitors.
• Email your subscribers regularly
Regular emails to your subscribers keeps you at the forefront of the consumers mind, these mails can take the form of both promotional and editorial content, the right blend, right down to the time of day you send the mail can dictate the success rates of your efforts.
• Pay attention to your metadata
Remember it is not just your content that drives traffic, your title tags and meta-descriptions are also very important. Titles should be descriptive and keyword optimized, keep the titles short and snappy to further entice the user to click.
• Transform your best performing print publications to digital
There is a reason why your best-selling publications are your best sellers, utilize these high performing publications, transform them into digital publications using the added advantages that digital brings to the table. Create digital archives from your back issues complete with newly added interactive features which brings us nicely on to…
• Use the latest technology available
Publishers should endeavor to use any and all means available to them to attract and retain viewers, encouraging interaction and engagement along the way. The use of images and video are a sure fire way of doing this, think of it this way, if the world has gone mobile you have to be able to attract their attention right away, you most likely only have a few seconds to grab the consumers attention. Video is already a mammoth source of content and if predictions prove true it will be the major player in the content arena, according to a BI intelligence report, online video audiences are expected to double in 2016, reaching 1.5 billion globally. That's right 1.5 billion…
• High quality and relevant content is paramount
Content; as the saying goes, is king, it is the one single thing that speaks for you in the vast arena that is the internet. It is the one thing that consumers will actively seek and it is how you will be found. Get into the habit of producing high quality content that people find relevant and useful and you are already on the right road to producing traction and engagement with consumers.
• The future is mobile
It's no secret that that the world in general has gone mobile, at no point have we had access to so much information and data while on the move. It is estimated that over 40% of online traffic is now from mobile devices and will continue to rise exponentially in the coming months and years. This is a gargantuan number and one facet of digital publishing which publishers have to place near the top, if not the very top of their agenda.
So there you have it, some tips for you to establish a digital publishing strategy to help you and your business prosper, before I leave you today I have one last piece of advice. In order to take advantage of and carry out the tasks I have outlined above, why not try out the free, fully functional trial of 3D Issue as a vital cog in your digital publishing strategy, it could make all the difference.

By Charlie Gallagher