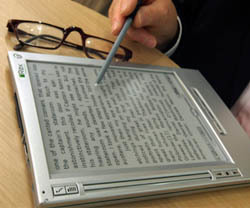 With the widespread embracing of e-reading devices and tablets it is no surprise that we are seeing a huge increase in the digitization of books. The uptake of new technology has formed a need for publishers to meet the market requirements. The traditional print book has seen a marked decline in its sales figures while eBook sales continue to increase. In this blog we will look at a few of the trends and statistics that go along with these revenue increases.
I am sure today more staggering figures will emerge as it is Cyber Monday and online sales are set to soar. To give a brief history of Cyber Monday it all started as a marketing term for the Monday after Thanksgiving. The term made its debut in 2005 and is growing in popularity since, quickly becoming one of the biggest online shopping days of the year. Tech sales are one of the high sales predicted today. With the push to online – it is no wonder we are reading online too. The growth figures for online sales increases in the past few years are outlined in the table below.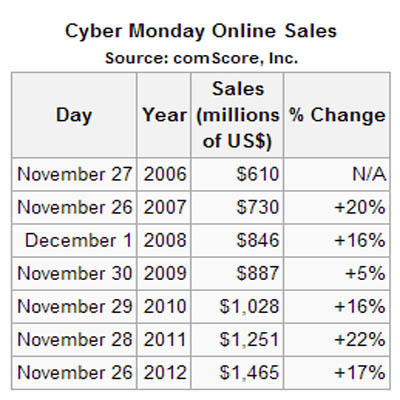 With internet sales and the public's quick adoption of new devices, it can be described as a mixed blessing. Predictions are that the near future will see changes in the book industry such as continued closure of physical book stores and publishers many need the counter balance of e-book sales to keep the publishing industry stable.
According to PWC worldwide the market for educational and consumer books was estimated to the valued at US$101.6 billion in 2012. This value has decreased from US$101.7 billion in 2008. Predictions foresee growth in revenue by a CAGR of 1% to climb to US$104.3 billion in 2017. Declining and stagnant figures from the print book market are being counter-balanced by the rise in e-book revenue, which in looks set to account for 22% of all book sales globally in 2017, an increase of 9% from 2012. These print and e-book publishing revenue figures are outlined in the graph below.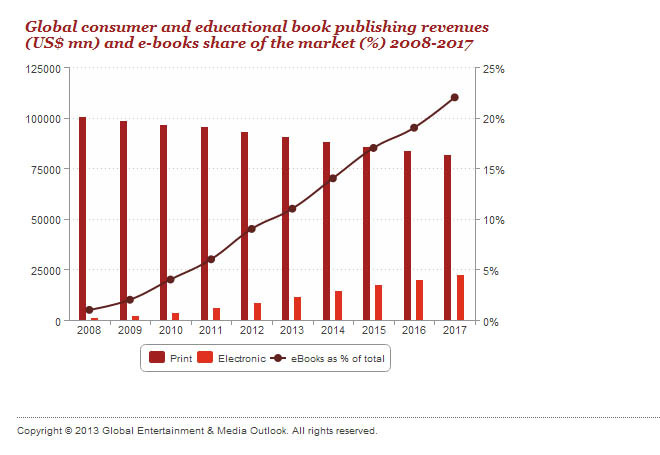 There is no doubt it is a tentative time in the publishing industry – read a related blog here entitled  "Has the Evolution of eBooks Reached a Halt?"
If you would like  to create an e-publication today you can use a free trial of 3D Issue Digital publishing software here.
By Audrey Henry