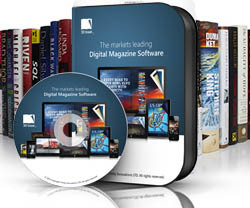 Digital publishing is as much a part of our daily lives as the internet itself, the world is online and so are the publications that we wish to view. Any publications that are not yet online are leaving themselves at a severe disadvantage in comparison to those who are. Let's say for the sake of this blog that you don't yet have your publication online and you are curious as to the features you should be looking for in the software you employ to digitize your publication.
In today's blog we will outline what it is you should be looking for in your publishing program and where to find it, we hope you enjoy our findings!
• HTML 5
HTML 5 is an essential feature of any digital magazines This indispensable feature enables users on iPhones, iPads, Android and other mobile devices to get the very best digital experience, when and where they want to access it.
• Apple iOS/Android App
When your end readers view your digital publication from an iPhone, iPad or any android device, the option should be available to download the issue to an App, allowing ease of access to your publications. This also means tablet readers can view your publications offline.
• Auto Detection and Placement of Links
Your publishing program should have the ability to detect web and email links from your original pdf(s) (whether these are embedded links or simply typed links) then place these live links in your digital edition, saving you valuable time and ensuring all links within your publication are live.
• Fully Customizable Output
Your publishing program should retain the ability to customize the look and feel of both the skin and interactive features of your publication by providing a choice of colors, backgrounds, sounds, visual page transitions and button controls. Your digital publications should match your brand so it really looks the part.
• eBook creator
Another must have feature in your program is the ability to publish anything, anywhere. You should have access to a creator tool to convert your content into ePub3 or kindle publications. Import content from your word documents, PDFs or just copy and paste the content in. Upload and push your eBooks to your reader base through their eReader devices. This is a great tool for distributing documents to your mobile reader base.
• User Login
Control access to your digital publications with user login. This tool will aid you in order to restrict and monitor access to your digital editions. A very handy tool for those wishing to set up a subscription based publication.
• Media-rich Publications
It's a digital publication so why not take advantage of the fact? Your publication should ensure that end readers have a unique reading experience, flipping through the pages like a real book, the only difference being that since this is a digital publication you should be able to utilize the obvious advantages of video and audio. This should include the ability to watch embedded videos and flash, listen to related audio clips and having the ability to click through to further information on the internet.

• Link to Back Editions and Archives
You may have a back catalog that you are keen for your consumers to browse through. The program you choose should enable your readers to browse through a graphical library of previous or related digital editions, so archived versions or back issues can always be accessed by your audience instead of being lost never to be viewed again.
• Vector Technology
Text within your digital publications should be vector based, the reason for this is that the user can zoom in to a high level without any pixilation occurring, ensuring crystal clear quality. A must have feature for any publication.
• SEO friendly
Search engine discoverability is paramount. You can have the most beautifully crafted magazine in the world but if people can't find you it will go to waste. Your software should include the abilities to create multiple seo profiles where you can customize the page title, description and keywords. You can then add the html pages to your sitemap to ensure search engine visibility.
• Searchable and Zoomable Content
Readers of your publications should have the option of using a search facility to explore the eBook finding relevant key words or phrases, they can also delve further into any page – by clicking on the page the reader is displayed a larger view of the publication making reading easy.
• Optimized Performance for iPad Publications
Let's face it, the iPad is one of the most popular tablets in the world with over 170 million units sold to date, you can't afford to miss out on this lucrative market. Your publishing program of choice should include enhanced performance of HTML5 front end flipper and slider components, pinch-zoom functionality in HTML5 on iPad, background images can be added to HTML5 on iPad and Android, and an optimize for iPad option added to software to output pages at optimum DPI for viewing on iPad.
So there you have it, the above 11 features should be on your 'need to have' list when choosing your publishing software and you will be pleased to hear that here at 3D Issue, we have all these features available and much more with our digital publishing platform.
Do you want some even better news?
The software is available through a free trial which is fully functional so you can try it out and see for yourself.
Try out the fully functional free trial here, you won't be disappointed!