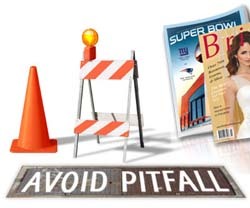 Have you ever wanted to run your own magazine, but always had nagging doubts concerning cash flow or your ability to attract an audience? Has launching your own magazine always been a dream that you thought you could never fulfill? Has the thought of having your own magazine excited you but you felt that there were too many pitfalls associated with the publishing environment? After all this this is an area where many have tried and failed, some of the best laid out magazines, aesthetically pleasing creations supplemented with eye catching imagery and clever typography have floundered at the first hurdle so why, you may think, would your creation be any different?
Well in today's blog we are going to try and discern the differences between success and failure in magazine publishing and furnish you with ten points to keep in mind when planning your venture.
Here we go; I hope you find it of some value.
1. Funding
Traditional magazines are not cheap to publish; thankfully the advent of the internet and digital magazines has made this process more affordable. Digital magazines offer advantages over their printed counterparts by negating printing costs, distribution costs and storage costs to name but a few. Keep in mind that even though you will have less costs through digital magazines you will still have to factor in the cost of designers, journalists, copy writers, photographers or image costs. Crucially you will also have to factor in the cost for your OWN time, a fact many people forget.
2. Lack of a niche
Be an innovator not an imitator. One sure fire way to fall into the doldrums of magazine obscurity is to copy what already exists. Consumers are always on the look-out for something new, something fresh. You can cover topics that already exist but make sure you have a fresh angle; a niche within in a niche should be your aim.
3. Lack of a market
In the same breath as telling you to create own niche, this comes with a word of warning, ensure the niche you choose lives in a market that is big enough to support your 'niche within a niche', aim for a market that is sizeable and profitable and vitally will be able to support your publication with ease.

4. Lack of ability to reach the market
With your market and niche firmly entrenched in your plan, your next task is to get your message to your audience. Where is your target demographic? Where can they be found? What social sites do they use? Are there particular forums they frequent where you can pitch your ideas and impending publications? Can you set up a mailing list? Maybe think of ways to attract people to leave their email addresses with you by offering something in return, build up your market and continually be looking for ways to expand your reach.
5. Editorial quality
This is a given but it is surprising how many magazines fall short when it comes to this, one of the most vital components of a magazine. The content you provide will make or break your venture, if you give people the content they yearn for they will subscribe to your publication, simple. Grammar and spelling throughout your content should be impeccable, this is your voice and how you will be judged, if this is an area which you feel is not your strongest, consider hiring help, it will be money well spent.
6. Staying relevant
Whatever your niche market is, stay aware of current trends and topics, your current content may be fine for now but be old hat in a remarkably short space of time. You must be ready, willing and able to pivot your approach to follow market trends and provide the consumer with the very latest the market has to offer. Failure to do so can lead to consumers failing to re-subscribe.
7. Consistency
We are for the most part creatures of habit, this is especially pertinent when it comes to money spent on your publication, if people have invested in your publication in the belief that they will receive 12 issues per year because that's what you said then that is absolutely what should be delivered. No middle ground. Deliver your promises without exception.
8. Understanding where your money comes from
Subscribers are be the backbone of your publication, it is not they though who provide the most revenue. Mostly, magazines make the majority of their revenue from advertising so you have to keep the advertisers happy, you do this by keeping the readers happy, happy readers continue to read the magazine and respond to the advertisements, happy readers mean happy advertisers which will in turn make you happy as money will keep continue to come in!
9. Quality staff
This is a facet of magazine publishing which may not seem so obvious but can be a potential pitfall from the start, the staff you hire may be able to perform their roles to an acceptable or even great standard but if they do not share your vision for the publication then there is an iceberg on the horizon. It is important that your staff and everyone associated with the magazine is on the same page figuratively speaking, lay out in no uncertain terms the vision you have for your magazine and where you see the publication going. Make sure your staff share in this vision and the role you see the magazine playing in people's lives.
10. Competition
No matter how obscure or how niche a market you create, you will inevitably run into competition from other sources at some point. Your idea may impress others to such a point that they create a similar publication, take this as a compliment. Do not fear the competition, thrive on it, don't allow it to overwhelm you and use it as a spur to make your creation even better than before
So there you have it, I hope that any of you out there who is thinking of starting a magazine found this information helpful. This market has more access points now than ever before, digital magazine publishing solutions such as 3D Issue can aid you in your quest to start up that magazine you have always dreamt of. Self-publishing is a thriving element of digital publishing in today's world, why not become a part of it?
Try the free, fully functional trial of 3D Issue today and you will see what I mean.