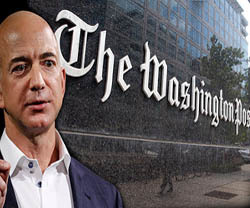 This week the buzz in newspaper land specifically has been around the acquisition of The Washington Post by Amazon's Jeff Benzos. What can this move mean from Amazon and what might it indicate for Publishing and Newspaper publishing in particular?
First things first – could this mean a free subscription to the Washington Post with every kindle sold by Amazon? There is an offer which could increase sales for any device. This is unlikely to emerge with Benzos having gone on record as saying he will not be interfering with the paper too much.
Yet Jeff surely the man behind Amazon will soon be in the mix at the Post changing it up to his heart's content and why not. The situation at the Post is no different to that of any Newspaper sale.
Bloomberg TV spoke yesterday on the general trend of lower prices being paid for papers. Advertising revenue is down across the industry and even at the $250 Million paid by Bezos for the Post it appears the price was still an overpayment (see Reuters here Washington Post EBITDA)
It appears that the price could well have been four times what the EBITDA figures would indicate as the correct market valuation. The actual valuation would have been closer to (only) $60 Million. Making The Washington Post's EBITDA $15 Million in 2012.

The average market value for newspapers has to date been x3.5 or 4.5 times the EBITDA, which is earnings before interest taxes, depreciation and amortization.
The additional payments represents intangibles including Brand Equity, the impact of this payment will increase prices for high profile newspapers. The same valuation on the New York Times would value the Paper at $5 Billion.
Whether the payment was high or not is debatable when brand equity comes into play. One thing which will emerge from this particular deal is a mark of confidence in the Newspaper industry at a time when it is really needed as more people look on-line for their news.
The On-line presence of the Washington post has been increasing in penetration whilst the print has been in decline. Circulation in the region of 470,000 copies per day. One thing is for sure the Washington Post is now firmly one to watch!