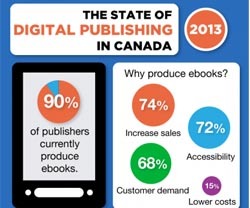 Reflecting what is becoming an increasingly familiar trend within the digital publishing realm, figures recently published in a report by BookNet Canada highlights the growing influence digital is wielding over businesses and publishers at large. The report, based around publishing companies in Canada, demonstrated the hard facts surrounding the industry in Canada and the numbers involved in the adoption of the digital platform within their strategies.
The report goes on to inform us that nigh on 90% of publishers in Canada are currently producing eBooks, those who aren't are currently in the process of publishing them or plan to do so in the very near future. Digital publishing has blossomed in recent years, a fact reinforced by the numbers supplied through BookNet Canada's report. In the report it is noted that digital publications such as eBooks account for 10% of the entire revenue generated by the major publishing companies, smaller publishers report that their figures tend to fluctuate more with anything from 1-10% of their revenue created by eBooks.
All of these eBooks need an outlet, and as such the main players within this facet of digital publishing also feature in the report. 93% of those surveyed stated they do business with Kobo, while 83% of publishers opted to also deal with amazon to ensure their publications were available through the hugely popular Kindle platform. Apple, unsurprisingly, was among the top three coming in at third with 76% of publishers electing to utilize their iBookstore to supplement their publications. Sony, B & N and Google had to settle for under 50% of publishers utilizing their ecosystems, with the figures in the report indicating that these figures were achieved mainly through liasing with the major publishing houses rather than the smaller publishing houses or boutiques.

Graphic courtesy of goodereader.com
The report also highlights a factor that is often overlooked in reports of a similar nature, the refreshing aspect of the BookNet report is that it actually asks the questions that are pertinent to the industry in its quest to move forward. These questions, namely what are the main obstacles that publishers face in the adoption of digital methods now and into the very near future, hold the answers to what is undoubtedly the future for publishers worldwide. The findings may raise a few eyebrows but did not completely come out of left field, some traditional publishers have been slow to adapt to this ever growing trend, a trend which is now essential in the survival and prosperity of their businesses, both now and into the future.
The findings highlighted that the majority of traditional publishers (53%), did not have a staff member tasked solely with digital duties. 100% of large publishers and 71% of mid-sized publishers have a dedicated digital staff member but only 31% of small publisher's avail of the same approach. One of the more telling findings within the report was that almost half of all those surveyed (49%) have more than 50% of their print tiles available in the digital format with just a meager 19% reporting that 100% of their active print titles are available in digital formats.

What the report iterates is a very real need for small and medium sized publishers in Canada, and globally, to further embrace and devote more resources to this ever expanding section of the publishing industry. Ensuring that at least on staff member is dedicated to the facilitation digital conversion is now more essential than ever before, alluded to this is the fact that having your entire catalog available through digital editions will further drive sales, something every company can never have enough of.
Major publishers now state that between 22% and 30% of their entire revenue comes from the sale of electronic books, this a percentage that smaller companies and publishers in Canada, and the world at large would do well to emulate. Publishers that adopt such an approach will open themselves to new revenue streams, further drive growth and accordingly place themselves in a position of strength moving into an age where digital is becoming all powerful and encompassing.
You can read the full report here.
Is it time your publishing strategy embraced the digital approach?
Not sure where to start?
Why not try the free, fully functional trial of 3D Issue as the first step towards the transition of your publishing strategy and in doing so ensure your approach is on the very cusp of digital publishing technology.