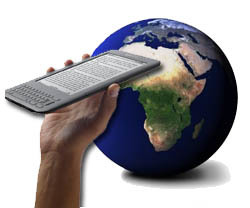 Publishers have long seen an absence of a book culture in Africa. However the tide may be set to turn with the recent acceptance of smartphones, tablets, the internet and availability of economical e-books.
Nigeria is one of the countries that is embarking on a new chapter. There e-publishing has proven a more effective method of publishing than traditional ways. The problems facing the printing industry in this country are of warehousing, printing and distributing. The solution to these difficult tasks is e-publishing. It is a country where challenges around the logistics of publishing a physical book are many. Printing services are not reliable; the sourcing of paper and inks is another hard job, so often the likely hood of producing a quality book is not guaranteed. Adding to the negatives, payment can be a futile task, so seeing a project through from production to sale can be problematic to say the least.
Africa is getting connected and thrust forward into e-commerce.  As smartphones get cheaper and more people are getting more comfortable reading on smaller screens, the digital footprint treks on.
The donation of e-readers to schools and communities by the organisation Worldreaders has over took the introduction of printed books to many schools. This teaching of literacy and spreading of reading to the multitudes would not have been imagined or possible without this infrastructure. Reaching 13,000 children across 9 African countries more than 700,000 e-books have been digitally distributed. The wealth of knowledge now being circulated would not have been economically feasible with traditional means. Worldreaders intends to continue its work and hopefully make e-readers of more than a million young Africians by 2015.

The eyes of the world's publishers are beginning to turn to this new reading and literacy incentive sweeping the African continent. The digital route suits this environment as e-books allow ease of access at a cheaper rate.
We often blog on the currents of digital publishing globally. 
One of the recent one was on the e-publishing breakthoughs in Japan.
By Audrey Henry