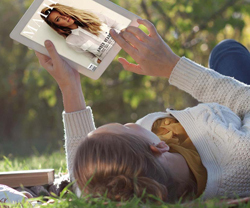 It is no secret that online connectivity has changed our lives irrevocably, this connectivity has infiltrated nearly every aspect of our lives and in the main this has been to our advantage, many things we now take for granted would not be possible if it were not for the far reaching, inherent power that the internet wields within our lives.

This has been further exasperated by the meteoric rise in mobile device usage, namely smartphones and tablets. Read more on how to create HTML 5 web app using 3D Issue here.

HTML5 eBooks offer many advantages to the publisher and considering the direction the digital market is migrating, perhaps two of the most influential are;

• Responsive design HTML 5 apps also have the ability to be 'responsive', they can target different devices through their ability to resize to whatever the screen size of the device the consumer happens to be using at that time, this is absolutely crucial when you consider how many options this could entail. The ability to detect what size of screen the consumer is using and adapt to fit could prove to be a vital factor in the months and years ahead.

• The inclusion of audio and video capabilities Audio and video are widely predicted to have a huge year in terms of content sharing (especially video), these are formats which are both supported by HTML 5. Greater smartphone penetration supported by faster networks such as the ever expanding 4G networks all points toward video superseding any other type of content in 2014.Video content will be a pivotal facet of publishing technology in 2014, the numbers involved are truly mind boggling, if businesses can harness some of these numbers then it could prove to be fruitful twelve months for all concerned.
With electronic reading habits increasingly associated with multi-device consumption, most authors and publishers are considering multi-device distribution methods using different file formats to reach as many readers as possible. Common devices e-books are published for include:

• Desktop & Laptop Computers

• Digital Audio Players

• E-readers (e.g. Kindle, Nook, Sony)

• Handheld Mobile Devices (e.g. iPhone, Android, OS Mobile Devices)

• Tablets e.g. iPad, Android Tablets

Read more on iBook or digital magazine HTML 5 app? Here. Undoubtedly, HTML5 digital publishing has many advantages for you and more importantly your contents relationship with the consumer; discover its benefits by downloading our trial version and viewing your own publication in mobile devices and tablets.

If you are interested in getting more information on the HTML5 digital publishing, the latest developments and the different perspectives on this platform, drop us an e-mail at sales@3dissue.com

Interested in utilizing the many advantages of HTML 5 for your content and publications? Why not try the free, fully functional trial of 3D Issue today and take your first steps into HTML 5 flexibility ensuring your content is available through all devices, an essential component in today's connected device driven world.  

By Charlie Gallagher