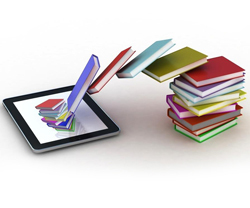 Over the last 10 years, changing trends have seen a sharp rise in the number of readers turning to digital publications. Because of these changing trends, the Publishing houses have had to adapt and enter the digital age of publications.
According to the New York Times in 2010, www.amazon.com reported that for the first time in their history, the sales of digital publications outnumbered the sales of hardcover books by 143 digital copies to every 100 hardcover copies.
With the changing trends, the publishing house had to adapt. 2012 saw the publishing houses Holtzbrinck, Random House and Arvato release an ebook library on the market called Skoobe.
According to www.digitalbookworld.com, the rise of e-reading and ebooks has fundamentally changed the trade publishing business and companies like Penguin and Random House have been grappling with that change, migrating many of their revenues to digital publishing and building bigger international businesses. As a result of this, the year 2013 will see the merger of both these companies in to the biggest publishing house in the world, Penguin Random House. The companies will be merging their resources, primarily with in regards to the technology involved with digital publications.

This is not to say that digital publications will completely wipe out hardcover books, people still like to read hardback copies of publications. However there is more than the nostalgia of having a book in hand to take in to consideration when choosing a publication, people are getting more aware that the more trees cut down to make books and other publications, the increase in the carbon footprint by that person is the outcome.
We really are in the early stages of this new and exciting technology, who knows what will happen in the next 10 years…
Image thanks to the nice folks here. 
By 3D Issue