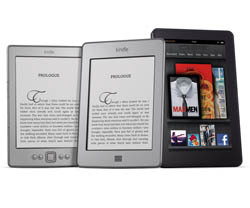 The 3D Issue software has been developed to create e-books in .epub, .mobi and HTML5 formats.
Why has the 3D Issue software been developed using two different e-Reader platforms?
The reason for this is because there is no universal platform that all tablet devices use for e-reading. If you use the .epub format, it is not supported on kindle devices. If you use the .mobi format, it is not supported on Barnes and Nobles Nook devices.
The majority of e-readers use the .epub format. The .epub platform is the main e-book format available. This type of format has gained in popularity due to the fact that it is designed for optimal e-book reading based on individual display devices. The tablet that has sold more units in the world is the iPad, and it supports .epub format right out from the box.
The Kindle uses the Mobipocket (.mobi) platform for their publications. The Mobipocket e-book format is based on the Open ebook standard using XHTML. Kindle publications can only be read with Kindle devices, or with a Kindle Reader application. The Kindle does not use the .epub platform.
According to Publisher Weekly, by the end of 2012, Kindle was used by 55% of the market for e-reading. Apple accounted for 15% of the market, with the iPad alone counting for 12% of the market. Because the iPad has sold more units than any other tablet, this should see an increase in readers downloading e-books to their iPads from the Apple store.
This being the case, it is a wise choice to publish not just for one device, but rather for all devices; e-Reader, tablet and mobile, and with 3D Issue you can!
By Derek Kelly