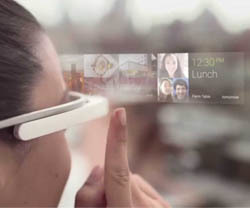 The publishing industry has gone through major changes in tandem with the evolution of the World Wide Web itself; the internet has completely revolutionized the way we send, receive and view information and data. The world is now online, the figures and statistics involved have been well documented. It is no secret that publishing industry has struggled somewhat with the transition to the online arena, a combination of slow adoption rates and a lack of a cohesive approach has hampered publishers taking advantage of this, the biggest of all marketplaces.
Smartphones and tablets are now our first port of call in the quest for information and data, the figures speak for themselves, these devices have infiltrated our lives like no other. This though, could be about to change with a new kid on the block about to come knocking at the door. In an exciting development for publishers and consumers alike, Google Glass has emerged as a possible outlet for future publications. Advancements in augmented reality in conjunction with consumer tech such as Google Glass eyewear could yet prove to be a shining light for many industries, particularly publishing; this is the view of Glassware Foundry CEO Dave Lorenzini who is something of an authority on the subject.
Lorenzini originally came to our attention through his co-creation of Keynote Inc; Keynote Inc. was acquired by Google and now goes by the more familiar name of Google Earth. GlasswareFoundry is blazing a trail as one of the first companies dedicated to creating apps for Google Glass and other Head Mounted Displays. Google Glass is expected to go mainstream this summer with a rumored retail price in and around the US$500 mark. The technology, according to Lorenzini, is at a pivotal point in its evolution, Lorenzini feels the technology is at the same vantage point as Apple was when it launched their its first iPhone in 2007, a period widely credited for the lighting the touch paper of the smartphone revolution. Lorenzini believes that Google Glass will have a similar effect in the future of computing and will go down as the dawn of a new age within the industry.
"This is the most exciting year in a decade for this technology – we finally have the hardware, the computer vision software, gesture control and natural user, voice interfaces all coming together to deliver an amazing experience
Lorenzini, who today (April 15th) will be speaking in the AR Marketing Conference at the Guinness Storehouse in Dublin, predicts major opportunities across a wide range of industries arising from the soon to be introduced Google Glass eyewear. He believes industries as varied as healthcare, fashion and media will all benefit from the exciting technology.

The term 'persistent vision' is a particular favorite of Lorenzini's. The harnessing of augmented reality does indeed look fascinating when you consider the uses and influences it could yield. Lorenzini states a confident case, he explains that through the use of interesting apps we could soon find ourselves with the ability to tell if a property was for sale or if there were jobs available all just by casting our gaze, (through Google Glass of course!), towards a building.
Fascinating thoughts indeed, ones which Lorenzini feels could revitalize industries that looked like they were in danger of being left behind in the technological age. In short Lorenzini sees this technology as breathing life into industries across the board.
"The difference between augmented reality of yesterday and what's coming is that instead of having to hold your phone or tablet up and use the camera to look at an object, you could be reading the sports section of a newspapers and a reel of video from the match will materialize above the headlines, or if you're reading the business section the latest stock prices will float into your vision.
"Persistent vision is what Glass is all about – that's where augmented reality will really take off and become effortless and instant – there's no more having to take a device out of your pocket and launching the app. It will happen naturally.
"For publishers, I think we'll see this supercharge print.
"I used to believe that all the digital stuff would kill the print industry, but actually the arrival of wearable tech like Glass could make the newspaper one of the most valuable things you can have, because it's literally a canvas on to which to paint living, breathing, highly targeted digital content that informs, educates, and moves readers to action.
"This will prove amazing for publishers," Lorenzini said.
Exciting times indeed, the online domain already offers the publisher and consumer alike many opportunities and advantages, we have seen video and audio added to the publishing arsenal, could we be about to see another facet added to the publishing armory?
That could be one for the future but a future that may not be all that far away.
Publishers have faced a tough time in recent years; the need for them to migrate their approach to a strategy that encapsulates online availability has never been greater, and could be about to get even more essential. Publishers may be at a loss or unsure where to start in this process, luckily that is why we offer a free, fully functional trial of 3D Issue as a starting point to accessing the advantages of the online domain.
Try the free trial today.