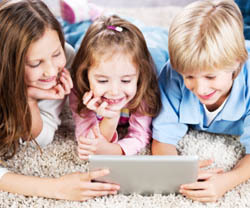 It is not in an understatement to say that online connectivity, particularly through smartphones and tablets have become intrinsic part of our lives, they are everywhere and look set to continue to grow and evolve until they are woven into the very fabric of society itself, some would argue that this is already the case.
That case has been given ever more credence with the announcement that Fuhu Inc is releasing the new Dream Tab tablet in June of this year, specifically aimed at children. The tablet, built for children but boasting adult standard technology, is intended to renovate the methods children use to learn, play and evolve through the use of technology in a fun, safe and entertaining environment.
This latest offering by Fuhu follows on from a range of tablets by the company aimed specifically at children; the mitigating factor in this latest offering is the product is a collective effort consisting of Fuhu themselves, Intel Corporation and DreamWorks Animation SKG inc.
"We are dedicated to providing kids new and engaging experiences in learning and entertainment integrating the most up-to-date and powerful technology in the market," said Jim Mitchell, CEO, Fuhu. "With Intel Inside, we are provided with the power and performance to deliver amazing experiences, limitless creativity and professional tools for kids to animate and tell stories in the palm of their hands."
The DreamTab, boasting Intel's new 64-bit enabled Intel® Atom™ Z3740 processor, promises to deliver excellent performance, superior graphics and a long battery life, much like you would expect to see on an adult version of a tablet.
"We are excited to collaborate with Fuhu, a leader in tablets for children, and bring Intel technology to its next-generation DreamTab," said Hermann Eul, vice president and general manager for Intel's Mobile and Communications Group. "This is just one example of the leading educational and entertainment experiences our companies can deliver together with Intel Inside."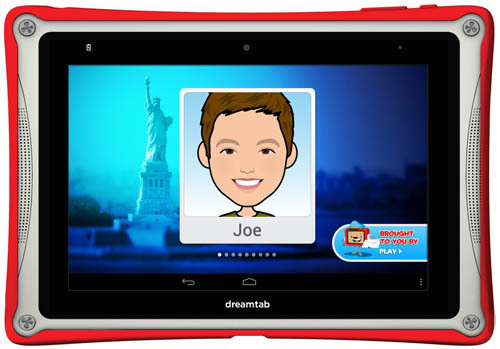 Concerns
It is pertinent at this point to highlight what would be most parents first thought, 'but I'm worried about my child being online due to the dangers of what they could be exposed to', never fear, as this is the first thought of any parent, there have been steps taken to ease any concerns, the DreamTab will include parental controls which will allow parents to monitor and control how long is spent online by the child and also features a COPPA-compliant/children safe e-mail, text and photo sharing capabilities which can be paired with the parents own devices for extra security and piece of mind. The now familiar nabi-based parental controls are also present, thanks to Fuhu's Blue Morpho Android OS overlay.
Other features, and they are numerous, include near field communication gaming technology which enables figurines to actively come to life when the screen is tapped by the child, (sure to get a great reaction!), featuring DreamWorks Animations own 'How to Train Your Dragon franchise' and an version of the Wings Learning System™. All the big players in kids programming are available through the DreamTab, everyone from Disney to the Cartoon Network have been amalgamated into an educational experience that is destined to rate highly with many a miniature hand.
An interesting concept designed to inspire budding Picasso's and Van Gogh's is the "Be an Artist" program, which is a DreamWorks inspired interactive, creative studio where children can learn to create and animate their favorite characters.

Learning online
Considering children are the future developers, engineers, artists, teacher's and generations of our time, this is a fantastic tool that offers everything that is good about online leaning while being carried out in a safe and fun filled environment. While the market has long had eBooks and eBook publishing aimed at children, this is an innovative and creative step in the direction of child learning through technology. There is no doubt that technology, when used correctly, offers a plethora of options that will benefit, educate and prepare our future generations for the digital world that awaits them.
Let's get something straight here, growing up should always be fun and while not to take the place of building tree huts, playing hide and go seek or any other favorite pass times of the little people, this clever use of technology offers an insight to the inherent power and potential that the internet and the devices we can access it with holds for the young.
The future
Children are like blank canvasses, they are the most brilliant people of our time, they can do anything, they can be anything, they can learn any language, conquer any problem, solve any puzzle, all they need is the correct guidance in a fun filled, colorful, pressureless environment.
Children are our very future and as such, should be shielded from life's darker shadows, which up until now was one of the internet's main drawbacks when it came to allowing them online, even if it was for innocent purposes there was always the unfortunate, but very real concern of dangerous elements lurking in the background. This usually meant that the child had to be constantly monitored or else they just weren't allowed online at all.
This latest incarnation by Fuhu promises all that is good about online learning without the worry of the sinister elements being allowed to pollute what should otherwise be a fun filled environment, brimming with excitement, color and the allure of the nothing is impossible attitude of children.
This positive and applaudable offering could and should inspire more eBooks with added interactivity specifically for children, why not offer the very future of our planet the best we have to offer? Who knows, maybe this will inspire more and more developers to get involved on the platform and further enhance the experience.
The only downside that I can see to this approach is that one or two parents may have to limber up and get nimble as they might have to climb a tree house or two to retrieve the DreamTab before bedtime!
Thinking of creating eBooks for children?
Why not try out the fully functional trial of 3D Issue to get you started.