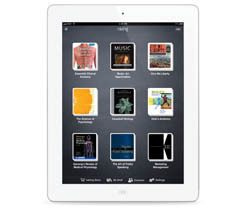 The book is no longer what it used to be. The electronic book (ebook) was born in 1971, with the first steps of Project Gutenberg, a digital library for books from public domain. It is nearly 40 years old, already. But this is a relatively short life compared to the 5-century old print book.
In 1990, the internet didn't bring print media, movies, radio or television to an end. It created its own space is a new medium, to get information, access documents, broaden our knowledge and communicate across borders and languages. Then booksellers began selling books online within and outside their home country, offering excerpts on their websites.
More and more books were published with both a print version and a digital version. Some books were "only" digital. Other books were digitized from print versions, made available in pdf format.
2007 along came the introduction of the ebook reader hardware with Kindle leading the way. With that came the idea of defining international standards. Interoperability standards are important enablers for a new market of digital textbooks. From a publishing perspective, currently the standards EPUB3 (governed by The International Digital Publishing Forum, IDPF) and to some extent HTML5 (governed by W3C) play an important role.EPUB3 basically provides a means to represent, package and publish digital materials and integrates formats such as HTML5 for media representation.  Some predict that in the future, the line is going to be drawn such that more and more content slides over to the "app" side.

Today we can create new generation e-books in three different types of output.
1. Flash/Html5        – media rich interactive books  that can be bookmarked and annotated, links to archives and libraries, web links, embedded audio files, SEO friendly, shared through social medi
2. Ebook format    – dependent on reader hardware. Many now in .mobi format or EPub 3 compliant, allowing output by software for text to speech.
3. Reader Apps      –  engage with your readers on whatever tablet / smart phone device they choose, allow them to read the content online or offline.
With 3D Issue, you can create all formats of these ebooks, enabling your readers to surf through your library and download any content that you publish in whichever format they choose.
By Linda Daly