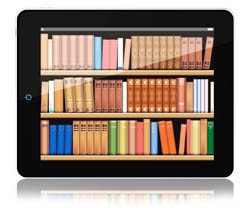 The eBook platform is fast establishing itself as the primary channel to market for book market. Wth a 44% percent growth in 2012 to revenues in excess of $3 billion in the US alone. Successful startups / Entrepreneurs smart will look to the technologies that disrupted alternate industries and look to see how they can apply that technology or radical thinking to this new market to see if they can create a similar disruptive product.
One such company is Oyster who launched last week. Oyster are trying to do to the book industry what Netflix did to online tv subscriptions or spotify did to the music industry. The vanguards of the publishing industry are finally starting to see that they are fighting a battle that they cannot win and will have to adapt to the hanging landscape and channels to market.
Oyster have launched a subscription service where you can signup doe $9.95 a month and access over 100,000 titles. The range of publications range from everything like self help books to biographies, classics and bestsellers. While it doesn't offer everything, it is off to a good start and further ahead than any other eBook explorers who tried to navigate this treacherous route to market before. Remember Netflix started off using low, cheap long tail shows that not too many people watched but Netflix concentrated on hovering up all of these small niche markets and then building out their beach heads from there. They already have some big scalps with partnership agreements with the like of Harper Collins, F+W Media, Houghton Mifflin and many more. Once they can show scale then they should have no problem growing the number of partnering publishing houses.
Like Spotfiy and Amazon, Oyster have been clever enough to include social following or semantic analysis tools that will allow readers to follow recommendations from their friends or others that have read your books and viewed other that may be of similar interest.

In a market that is nearly monopolized by Amazon, it will be interesting to see how their launch goes. It will be hard to compete against Amazon for the premium titles but if they adapt a strategy like NetFlixs and focus on hovering up the small niches or bespoke books that only appeal to handfuls of readers and build out from there then they could achieve considerable scale.
Regardless of whether it is Oyster who disrupt this market it is clear to see from their list of partners that the dinosaurs that are the publishing houses are finally been dragged into the 21st century and understand the urgency in changing their business models.