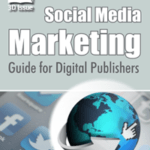 Throughout this blog, we will talk about the risingsocial media benefit and marketing tips that the publisher should keep in mind.
From ComScore "Social networking is the most popular online activity worldwide accounting for nearly 1 in every 5 minutes spent online in October 2011 thereby reaching 82 per cent of the world's Internet population which represents 1.2 billion users around the globe". It states that 6.7 Billion hours were spent by people around the globe in social networking sites according report in January 2012. This forecast makes its important for publishers to adapt to social media marketing strategy at an early pace.
The book industry is a natural for social media marketing and authors today are discovering great results by utilizing social media marketing for their pre-and-post book launch. Reuters reports that 62% of people around the globe communicate through social networking sites, so this is a marketing area that e-Publishers need to get involved with to grow and interact with the online audience.
People, nowadays are requesting content that are easily accessed, talked about, rated and shared. Readers are very much interested in authors, they want to interact with them and authors have much more to say to them about what they have published in their books.

Joanna Penn an author in this Guardian Article states that "you should spend 20% of your time writing and 80% of your time networking through social media. In tune with this, self-e-publishing author Louise Voss recently informed me that the success of her e-books came about as a result of spending about 80% of her time marketing".
Our new E-book on the Social Media Marketing is a useful guide for publisher looking for marketing tips. Within the E-book, we have covered and laid out tips for publisher to market their publication through Twitter, Facebook, Pinterest and LinkedIn.

By 3D Issue