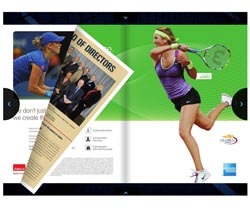 According to eMarketer, the unit sales of iPads in the US between 2010 and 2012, was 58 Million units. With a population of 313 million, this means that every in 1 in 6 people in the US has purchased an iPad.
Because of this, digital publishers have to take into consideration that their publications must be compatible with iPads and other tablets.
The 3D Issue software allows a publisher to create digital publications by importing PDFs into the software. The publisher can then make their publication interactive (if they have the Profession or Enterprise software). When the publication is ready to be published online, the publisher can upload directly to their website using their FTP details.
What the software does is it ouputs the publication in two formats, Flash and HTML5. The publisher does not need to create two separate URLs for this, rather the publication will have one URL and it will load in either Flash or HTML5, depending on what type of device the reader is using.If the reader accesses the publication using an iPad, then the publication will load in HTML5 and is fully compatible with the iPad.

With the 3D Issue Professional and Enterprise software, there is the option to have an App (Apple, Android or Facebook) available for the reader. If you have selected the App feature in your software, so if a reader accesses the publication using an iPad, they will be given the option "Do you want to download the 3D Issue App?" If the reader says yes, then they will be brought to the Apple store where they can download the 3D Issue FlipBook Viewer App. They can then download the publication to their App and it allows the reader to view the publication offline. This is a 3D Issue default App, but a reader can purchase a branded App from us if you wish to have an App with your company features.
To see more information on the branded App, please click the following link; branded App
By Derek Kelly