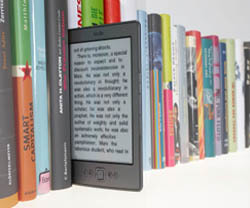 The ways in which we view and consume content has changed irrevocably since the dawn of electronic devices and the capabilities they have brought into our lives. Where once the printed book reigned supreme, there has been a gradual but consistent change in our reading habits. Smartphones and tablets are now our preferred devices of choice, these devices now dominate the consumer market, tablets, along with ereaders, are the most popular method of viewing and digesting eBooks.
"Three in ten adults read an e-book last year; half own a tablet or e-reader" (Source)
A recent study conducted by Pew has highlighted this continuously evolving method of reading among American adults, the study has highlighted statistics such as the percentage of American adults who read eBooks has grown to 28 percent, up from 23 percent, a further study by Pew also states that over 46 percent of people now own a tablet or e-reader of some kind.
"Five of the top 10 eBooks on amazon.com were by self-published authors, or authors who originally published their own work." The Irish Times 22 June 2013.
This is clearly an industry enjoying an upward trajectory and one would have to imagine that this will be further strengthened by the ongoing development of devices at our disposal. While never claiming to completely replace the printed word, the eBook has become a familiar sight within our day to day lives, the same study above highlights this very fact with their findings that consumers are reading both eBooks and the traditional version of content that we have been with us for centuries, in tandem.
"Seven in ten adults reported that they read print books and eBooks simultaneously" (Source)
There is little doubt that in order to enjoy the maximum reach for your material you should be producing an eBook, either solely or to supplement an existing printed version, to do so will enable you to utilize the numerous advantages that they undoubtedly hold and crucially offer you, the publisher.
In today's blog post, I will explain how to do just that using 3D Issue:
1. Open 3D Issue 6.3 on your desktop, and import your PDFs into the software.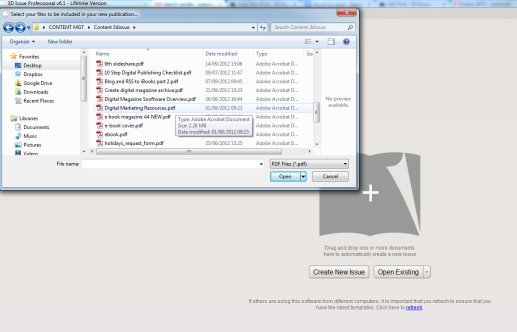 2. In the Content tab, add your company's logo, ftp details and meta tags for the publication to help its performance in search.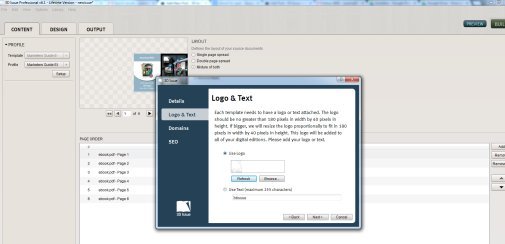 3. In the "Design tab", add interactive features and multimedia capabilities to your e-book as you wish – add audio, photo galleries, in-text hyper-links, videos, table of contents and much more.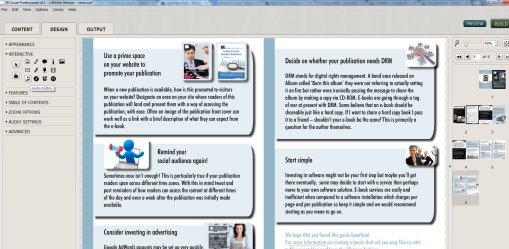 4. Finally, in the Output Tab, ensure "Online (Flash/HTML5)" and "iPhone/iPad App" are selected: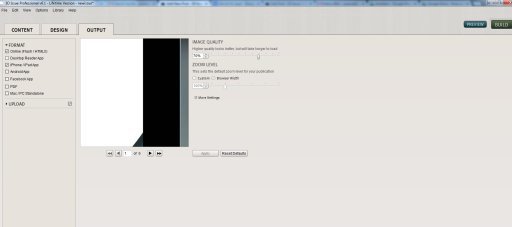 It really is that simple. A stunning and interactive e-book published in minutes. You can also create a native web app from within the software interface, and pdf to .epub and .mobi conversion is also available within the software package to cover all distribution channels you may choose for your e-books.
For more information on how to create e-books, check out our video tutorials section.
Distributing your eBook
This brings us onto the next part of your eBook journey in publishing your eBook, distribution. There are two main file types used by the major devices on the market, namely .epub and .mobi. For example if you wanted to publish your book to the Amazon Kindle you would have to ensure it was in the .mobi format, if it was for use with the Apple iPad it would have to be .epub compatible and so on. HTML 5 is another format which is an essential part of the eBook stratosphere with the widespread adoption of tablet and smartphone content consumption.

The main players in eBook distribution are Amazon – Kindle Direct Publishing (KDP) and Apple – iTunes Connect, but there are other options also available to you such as selling directly from your website, through eBook stores or other retailers depending on your niche and particular needs.
Are you interested in publishing your own eBook?
Are you curious about how to embark on your eBook creation?
Then why not try out the free, fully functional trial of 3D Issue as the first step towards creating, and enjoying the benefits of publishing your own eBook.