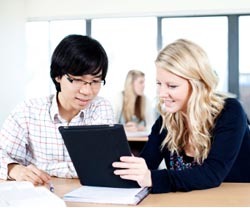 Universities are looking for education marketing talent to help bring a fresh approach, not necessarily those who have 'grown up' in higher education. Many universities are still playing catch-up in this area and there is still a heavy acquisition reliance on printed prospectuses and open days. Good marketing should not interrupt prospective students by buying their ears and eyeballs, but attract them with meaningful and relevant messaging purchased in the correct spaces. Education marketing stretches beyond the admissions office, reaching many other departments, engaging the student right throughout their lifecycle.
Universities should look to communicate with students in places they are likely to be – it is no longer enough to rely on the prospective student automatically visiting your university's website. Today's students are bombarded with messages (at the cinema, on TV, on Spotify, YouTube, Facebook and Twitter) and, as there is no longer a 'best media', we must try to reach them at each of their own touchpoints in order to cut through the noise.
When asked, many students say university is more about the experience than the specific degree. Your messages will be more meaningful if wider interests are targeted, you can do this with digital publications. Use a university app as a hub to deliver your digital publications to students at the university and promote out work to local, regional and national partners.
Admissions: Use digital publications to differentiate in the marketplace and improve student recruitment.  Create the ultimate "show and tell" publication format to educate prospective candidates on all your institution has to offer. Expose prospective students to the notion of what university life is all about. Make your view books and admissions collateral literally come to life while broadening your reach across all mobile devices. Update with ease.

Marketing & PR: Create media rich applications that reach a device independent audience. Drive repeat reader engagement both online and off-campus; increase reader attention and lower content distribution costs. Reach your readers on the social networks where they hang out. Use fully branded apps to create a more distinct brand identity for your digital editions so you can showcase your publication brand on the world's leading app store.
Faculty Members: Promote courses and research on-line. Become more learner-centric and accommodating of student achievement, regardless of the time they study, the place or where they source their materials. Deliver more engaging content using movement and sound and communicate your research. Get short working papers to market quickly. Students can consume your content on any platform, online or offline, collaborate and share through social media platforms. Analyze the learning data, update and refresh content.
Student Body Services & Dean's Offices: Centralize all your guides, rulebooks and publications in a single app to make it easy for parents, students and fraternal organizations to access the information you need them to understand. Distribute event related publications across all mobile platforms.
Alumni Associations: Increase the value of membership, optimize member and donor engagement and offer your advertisers opportunities to reach your digital and mobile app subscribers. Transform your alumni, campus or non-profit magazine into a vibrant digital edition, enhanced with video clips, slideshows, audio and web links to distribute by email, web and on your branded mobile app. Our digital magazines integrate social media, page bookmarking, keyword search, reader stats and much more.
Sporting/ Athletic Organizations: Attract the top coaches showcasing your sporting prowess through live digital magazine using video and sound. Increase attendance at those games, providing snippets of those "golden moments" in your newsletters.  Communicate and distribute your calendar of events across all mobile platforms. Capture those magical moments of the season in video and include is your publications.  Let your advertisers reach your audience. Catalog your merchandise.

By Linda Daly