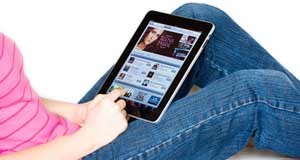 As the Christmas season is fast approaching, the publishing sector is getting ready to put different tactics into practice to reach their target audience. According to this article, the magazine publisher Future is investing on an impressive digital sales of e-editions. The chief executive of the company, Mark Wood commented that 'the company is already shifting $1m in gross revenues a month from sales of its digital titles and expects a huge surge this festive season as tablets are expected to sell in record numbers this Christmas'
Why is Future investing in this impressive digital sale?
The company reports that customers' responses to sales as well as the market trends during 2012 have been characterized by some encouraging patterns:
• E-edition sales: The company has made £6m from e-edition sales on Apple's Newsstand. Thus, the company has derived nearly all of its digital edition income from Apple's Newsstand to date.

•  Growth opportunities: The success of Amazon's Kindle, Microsoft Surface and placing e-editions on the Google Play digital store were identified as huge growth opportunities for the company
•  Growing Circulation: At its UK business, which accounts for all profits and more than 80% of revenues, digital copy sales have surged from 1% of total circulation to 5% in 12 months
•  Digital vs. Printed Sales: Digital sales helped Future UK keep total circulation revenues flat, as sales of printed copies fell 7% in the year to 30 September
•  Best digital sellers: Future's big digital sellers include T3 (30,000 copies a month in the UK) and MacLife (65,000 a month in the US).
There seems to be many indicators that the company has valid reasons to invest on such a big scale digital sales particularly focused on the Tablet sector. Thus, Future's chief executive states that 'the growing market of tablet-style products from makers including Apple, Amazon and the new Microsoft's Surface will make this a record Christmas for sales'. Undoubtedly, the availability of more titles for tablets can be a great incentive for customers to purchase the product and as a result boost the e-edition sales.
Image thanks to the nice folks here