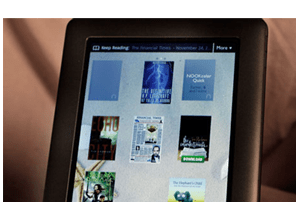 January is the time year to unveil predictions for different platforms in the publishing sector.
The Guardian provides us with the expected panorama for the eBook sector during 2013. Let's have a look at some of the main developments in the following aspects:
1. Sales: E-reader sales will decrease as tablets grow in popularity and people will purchase them instead of e-readers. On the other hand, the article also points out that the price of e-readers will continue to decrease and basic Kindles and Nooks will cost the same as hardbacks.
2. Competition: eBooks will increasingly have to compete with YouTube and Angry Birds HD.
3. Self–Publishing: The self-publishing market is expected to continue its success story as more and more publishers will launch self-publishing services. Self-published authors are even expected to form co-operatives as this platform booms in 2013.
4.  Apps: Apps will stretch the definition of 'book' as traditional publishing will become more experimental and introduce new interactive features.
5. eBook Exclusives: In 2013, more eBook exclusives will be launched in the market. The digital -first political thriller The Kills will launch (part1) in February and this trend is expected to grow.
6. Main players: Publisher-led online communities and newspapers will become big players in the e-book market. In our blog section, we have discussed the case of the Newsweek newspaper going digital.

Certainly, the developments in the eBook sector during 2012 are good indicators that the predictions for this year are feasible. In our blog section, we will take a close look at the developments in the eBook sector throughout the year to keep you updated.
By 3D Issue